Canadian ordered released
According to news reports in the Dominican Republic, Toronto resident Antonio Carbone, who has been incarcerated in the Dominican Republic for almost two years in remand after being charged with attempted murder, was ordered released from jail. Mr. Carbone is a well-known investor in the Dominican Republic and co-owns Dream Corporation, which is the largest chain of casinos in that country.
Despite the order, he has not yet been released and his lawyer in the Dominican Republic said that he suspects he will never get out. His lawyer said he is in fear of his life.
Mr. Carbone received worldwide attention following several media reports when in 2013, Canadian billionaire Michael DeGroot sued a number defendants to recover over US$111 million he said he lent to the Dream Corporation to invest in casinos in the Dominican Republic.
The DeGroot lawsuit appears not to have been pursued in any vigorous manner but at an earlier preliminary hearing, an Ontario Supreme Court Justice found that there was a prima facie case of fraud against one or more of the defendants, and a Court-appointed receiver reported that it had found numerous instances of missing funds, numerous failures to report to Mr. DeGroot and that over $21 million of DeGroot's money had disappeared into thin air.
News Investigation
The background of why a foreign country is detaining a Canadian is a complicated one.
Mr. Carbone was arrested in January 2015, in the Dominican Republic for the alleged attempted murder of an employee of one of the Dream Corporation's casinos named Fernando Baez.
Based on news reports in Canada and the Dominican Republic, according to a sworn statement given by Baez, sometime during the evening of December 1, 2014, Mr. Carbone allegedly attempted to kill him by throwing a bomb in his car while he was getting out of that car. There was, he deposed in a sworn statement, and as he explained dramatically on TV, "an explosion and then … flames" and he allegedly narrowly escaped with his life.
According to media reports, Baez seems to live a lavish life for a casino employee, driving around the impoverished island in two imported exotic cars – a Rolls Royce and a classic Jaguar. Shortly after making his dramatic statements on TV about his alleged brush with death and escaping a car bomb explosion, Baez told a Canadian reporter that he received a payment of $500,000.
He went on to maintain that the large payment to him was not connected to a voice recording published by the CBC in which he was heard discussing a payment of $500,000, payable to him if he were to join "the team". It's unclear what "team" was meant since Court records released by the CBC show that he was employed by Dream Corporation.
In an incredible investigation, the CBC and the Globe & Mail found that Baez and another person, who was the chief witness, subsequently changed their story in a material way to the prosecutor in the Dominican Republic about the alleged car bombing.
Based on their own sets of contradicting statements, they lied either initially or subsequently.
Baez subsequently admitted the following:
He was not in any car that exploded, as he had previously sworn;
He was not in any car where a bomb was thrown in, as he had previously sworn;
The car that was allegedly damaged was not the car he drove that day, as he had previously sworn; and
When the alleged bomb allegedly blew up his car, he was in the penthouse suite of an apartment building.
The second witness, also an employee of Dream Corporation, deposed that he had heard Mr. Carbone plotting to kill Baez on December 1, 2014, and that after the alleged car bomb, he was with Mr. Carbone when he allegedly celebrated the alleged attempted murder which Baez says didn't happen.
The  second witness subsequently recanted his story to say he never heard Mr. Carbone plotting to kill Baez at all and was not with him on December 1, 2014, as he had alleged, celebrating an alleged murder attempt that apparently didn't happen.
Not possible to establish elements of offence in a normal country 
The Dominican Republic has to prove the elements of the offence of attempted murder to convict Mr. Carbone, namely:
Mr. Carbone formed the mental intent to kill Baez;
Mr. Carbone was in the Dominican Republic on December 1, 2014;
Baez was in his Jaguar when a car bomb was thrown in it;
Baez was injured by the alleged car bomb;
There was an attempt on the life of Mr. Baez;
Mr. Carbone detonated the alleged car bomb in Baez' car;
Mr. Carbone detonated the alleged car bomb in Baez' car while Baez was getting out of it; and
There was a car bomb that exploded in the car of Baez on December 1, 2014.
The prosecutor will have to show a motive as well and that may be difficult, given that Baez was just an employee who did not have a material role in operations.
The pictures below illustrate the debris that flies out from the force of a car bomb, usually killing or seriously injuring people. If Baez was getting out of his car, as he first deposed when it exploded, he would have been killed by flying debris, or at the very least, would have sustained serious injuries requiring hospitalization.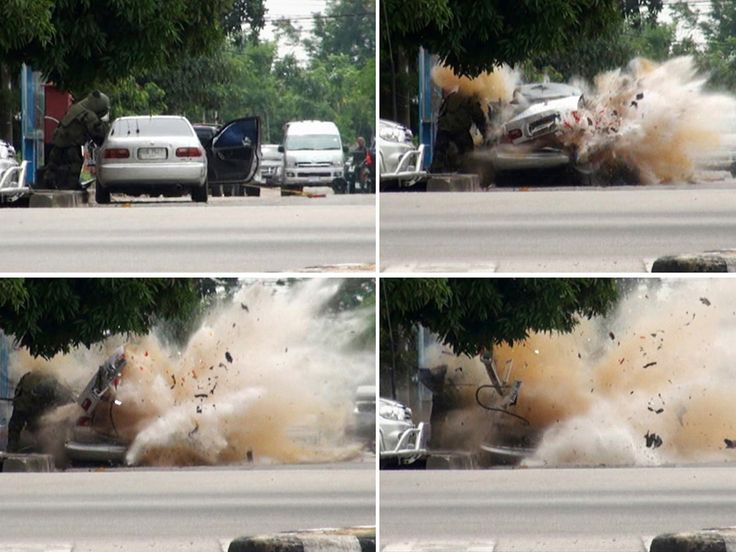 The prosecutor will no doubt pursue this case anyway because it is, after all, the Dominican Republic.  The Dominican Republic is ranked year after year as one of the most corrupt countries in the world, and its corruption is systemic, involving the private and public sector, as well as the judiciary, according to this report. The prosecutor in this particular case, a person whose name is Yeni Reynoso, has gone on the record as saying that her police force engages in contract killings.
Other interesting facts
There are other interesting aspects to this story.
In this media article, the Carbone brothers allege that the current Canadian management of Dream casinos showed up at the office in the Dominican Republic and stole everything in it, including millions in cash and an email server with evidence that the Court-appointed receiver was searching for, both in Ontario and in the Dominican Republic.
A news report alleges that police in Canada are investigating whether the casino operations in the Dominican Republic are being used to launder funds for the Mafia in Canada.
This news report says that the Mafia infiltrated the operations of Dream casinos, consistent with the investigation by the Globe & Mail where the CFO of Dream casinos in the Dominican Republic, Kremblewski, a Canadian, tells the media that a member of the Montreal Mafia (identified by the Charbonneau Commission as such) was working with him at the casinos.
This is a fascinating case to watch because for the outside observer, nothing seems to make sense.