Another Bitcoin exchange owner murdered
A Bitcoin exchange owner, Giuseppe Bugge, was murdered in Guadalajara, Mexico, last week, possibly by a Mexican drug cartel. Bugge was ambushed by eight to ten men and over-killed with 140 bullets from AK-47 and AR-15 assault guns.
Bugge operated a Bitcoin exchange called GS Crypto Currency Ltd. in Vancouver, Canada, that provided OTC services for the sale and purchase of Bitcoin.
Violent robberies and the murder of digital currency exchange owners is up 100% in 2018, as it becomes more dangerous to be associated with Bitcoin exchanges. Bugge is the second digital currency exchange owner to be murdered in 2018 – the first was a Russian named Pavel Nyashin. Another Canadian digital currency exchange owner was held at gun point and robbed earlier this year. Digital currency exchange owners, and high profile exchange executives seem to be at the highest risk for thefts, violent home invasions and extortion attempts.
The Vancouver Police Department said that Bugge was associated with the Hells Angels, a transnational criminal organization; was involved in drug trafficking; and had a long history of fraud in British Columbia. An associate of Bugge's, Alfredo Mayorga Gudino, was also shot in Mexico but was not killed. A woman, who was with them, was taken by the state prosecutor's office for questioning.
Several years ago, Bugge operated a number of moving companies that were allegedly used to smuggle drugs into the US. In 2005, one of the drivers of his moving company was arrested by US law enforcement and pled guilty to smuggling illegal drugs from Canada to the US, stuffed in a sofa.
Prosecutor Raúl Sánchez Jiménez, from the State of Jalisco, Mexico, where Bugge was killed, is seeking information about Bugge from US law enforcement.
During a press conference, the prosecutor said that no one from the Bugge family in West Vancouver has claimed Bugge's body and that the Mexican authorities are treating it as an organized crime matter.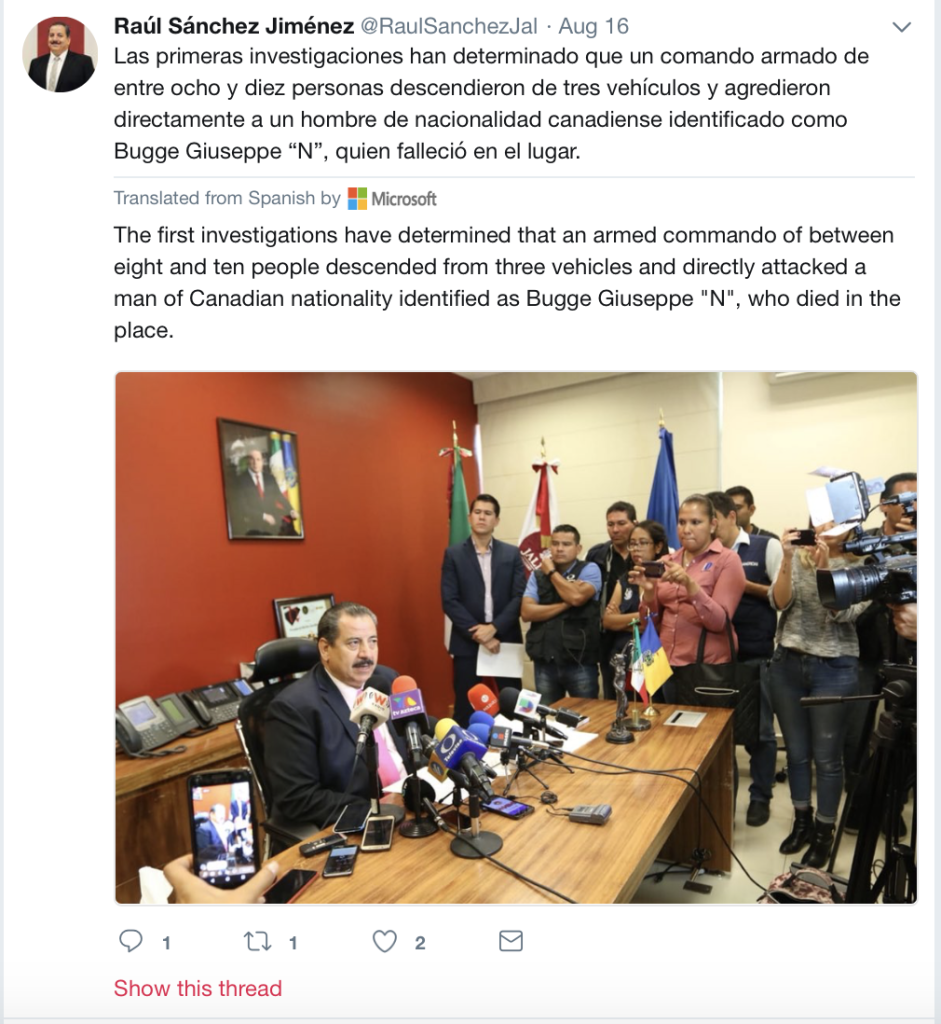 If Bugge was killed by a Mexican drug cartel, it may have been by the CJNG because Bugge was on their turf. Guadalajara, Jalisco, is the home of the most powerful drug cartel in Mexico, the Cartel Jalisco Nueva Generación (meaning the new generation cartel of Jalisco) whose acronym is CJNG.
The leader of the CJNG is Nemesio Oseguera Cervantes, also known as El Mencho. El Mencho was a former state police officer. He is now the most wanted drug kingpin in the world with a bounty of US$6.5 million for his capture.
The CJNG is alleged to have amassed a fortune of US$20 billion. 

The CJNG focusses on the production and export of synthetic drugs and have the lion's share of the meth trade, with drug trafficking routes in several countries on six continents, controlling half of Mexico, including both coasts and both borders. The CJNG is known for being extra violent and, for example, stewing the bodies of murdered people in acid to eliminate identity evidence.
Jalisco has the highest number of disappearances in Mexico — topping 3,000 per year. There were 11,241 murders linked to transnational criminal organizations in Mexico in the first half of 2018.
In 2015, the CJNG was listed by the US Department of the Treasury's OFAC as a Specially Designated Narcotics Trafficker pursuant to the Foreign Narcotics Kingpin Designation Act. The listing designation means that all the assets of the CJNG and its members (such as bank accounts, investments, homes, etc.) in the US or under the control of US persons or entities (such as accounts opened by Canadian banks that have a US presence, or Canadian entities operating in the US or that have US bank accounts) are frozen, and such persons and entities are prohibited from engaging in financial transactions with the CJNG or their members. Penalties for violations of sanctions include fines of up to US$5 million and imprisonment of up to 30 years.