Two Canadian Blockchain companies based in Vancouver, BLOK Technologies Inc. ("Blok") and Cryptobloc Technologies Corp. ("Cryptobloc") have been caught up as part of the so-called Bridgemark scandal affecting Vancouver's capital markets.
The Bridgemark situation started in November 2018, when the Executive Director of the BC Securities Commission announced that he had issued an order against numerous companies and persons associated with Bridgemark Financial Corp. ("Bridgemark") over allegations that one or more of the named companies and persons were allegedly involved in fake consulting agreement schemes whereby persons or companies were allegedly hired as consultants and paid lump sum fees in advance but provided no services.
According to the BCSC, Blok and Cryptobloc each sold shares via private placement to Bridgemark for proceeds of $4.5 million each. Two other little cannabis companies did the same for a total proceeds raised from Bridgemark of $17,929,500. But then, allegedly Blok, Cryptobloc and the two other companies paid back Bridgemark $15,331,000 for what appears to be alleged consulting fees, thus between the 4 issuers, they appear to have been left with a little over $2 million from alleged private placements of $17 million. Such an arrangement, if it existed, is material and contracts for such arrangements, if they existed, are material contracts. According to the public disclosure documents, no shareholders of the issuers were informed in filings of the pay-back of funds raised back to the one placee, if such did indeed occur.
The BCSC alleges that the so-called Bridgemark scheme facilitated the illegal distribution of securities and was abusive to the capital markets.
According to the disclosure record of the public filings of the two Blockchain companies, there is no disclosure of material contracts between them and Bridgemark and no disclosure of the fact that over 80% of funds raised by private placement were directed back to the coffers of one placee, according to the BCSC.
In the Spring of 2019, the BCSC issued orders freezing certain property and assets of some of the parties involved in the Bridgemark case. As well, several civil claims have been filed against some of the parties for claims tied to the BCSC investigation and allegations.
Who is Blok?
Blok was a Vancouver mining company, a reporting issuer, that up until 2017, was mining in northern Canada and then announced an intention to get into clean energy and then a few months later, into Blockchain to develop a Blockchain for cannabis by acquiring a company called Greenstream, whose owners, Blok said, were the first in the world to identify that Blockchain could be used for cannabis. According to the public disclosure filed by Blok, Greenstream had already developed smart contracts. With respect to Bridgemark being a consultant pursuant to a consulting agreement, if there was one, the listing application of Blok does not mention a material contract, or any contract for consulting services with Bridgemark. Continuing up to today, there is no material contract filed in respect of Bridgemark for consulting services. Blok recently announced it was shutting down the Greenstream smart contract cannabis tech.
Who is Cryptobloc? 
Cryptobloc started as tech company in the area of sensors. Its early disclosure documents have footers that identify it as associated with, or having a listing completed by, Bacchus Law. Like Blok, there is no material contract filed, or disclosure in respect of consulting services with Bridgemark. In November 2017, it switched its business to Blockchain. It is not clear from its disclosure record, what precisely it does, or has done, in the Blockchain space. The Cryptobloc website home page, a screenshot of which is posted below, evidences that its Blockchain customer facing website is still not done since 2017 and is a work in progress.
It has a fairly impressive client, however. On April 9, 2018, it issued a press release that, among other things, disclosed that the US based digital currency exchange Coinbase was its client and that it provides AML services to it and, while unclear, possibly through a subsidiary entity. Cryptobloc is under a management cease trade order and as a result, it is surprising that it could still be providing AML solutions to Coinbase. Coinbase has a New York State trust charter to operate as a financial institution, a BitLicence and 50 state MSB licences, as well as a FinCEN registration. Normally, the New York state bank regulator would require Coinbase to cease dealing with a service provider facing regulatory allegations until such allegations are resolved.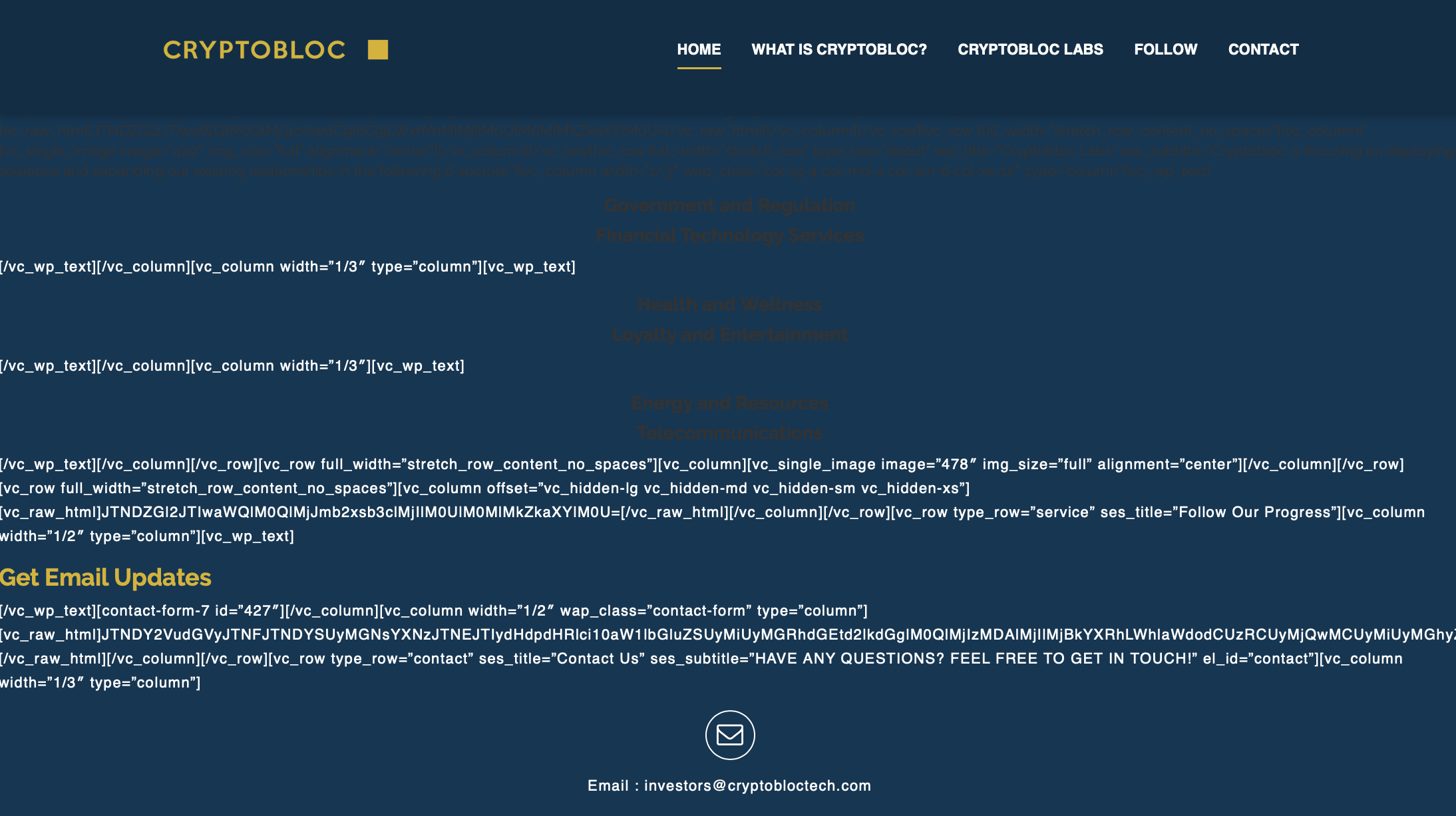 You can read more here, and follow Glacier Media to stay up to date with the story.
Other parties named in the Bridgemark case are Aly Babu Mawji, Robert Lawrence, Tavistock Capital Corp., Jackson & Company Professional Corp, Anthony Jackson, Jarman Capital Inc. and Scott Jason Jarman.