Operation Darkness Falls nets Canadian fentanyl dealer
The US DoJ, Department of Homeland Security, the FBI, the US Postal Service and DEA announced several arrests in Operation Darkness Falls, an international operation that sought to ferret out the identities of people selling illegal drugs, especially fentanyl, on the darknet that accepted Bitcoin and other digital currencies for payment.
A Canadian in Vancouver named Robert Kiessling was arrested in Canada. He was vendor DF44 on AlphaBay, the Canadian-owned darknet trading platform that facilitated the sale and purchase of illegal drugs, guns, weapons, stolen identities and such, using Bitcoin and other digital currencies.
When AlphaBay was shut down by the US government, Kiessling moved to Dream Market. Under DF44, he openly promoted the sale of fentanyl (below). Kiessling committed suicide after his arrest before he could be extradited to the US. He was the 3rd largest fentanyl vendor in North America. Like the other Canadian who founded AlphaBay and was indicted in the US, Kiessling committed suicide after his arrest.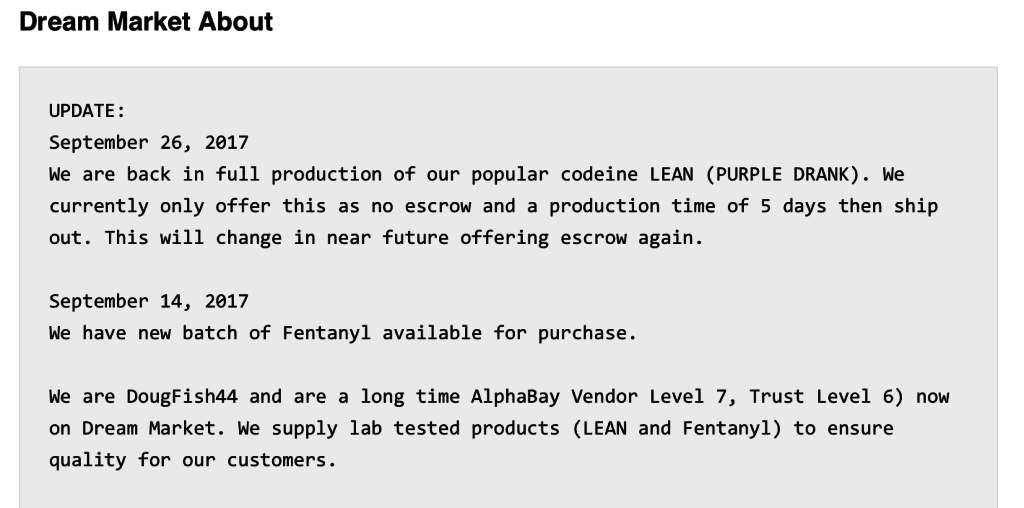 Largest fentanyl vendor also arrested in US
Also arrested were Matthew Roberts and Holly Roberts of San Antonio, Texas, who are alleged to have created and operated several darknet accounts, including MH4Life on Dream Market, Silk Road and on Canada's AlphaBay to sell fentanyl, heroin, cocaine, marijuana, LSD, meth and other illegal drugs.
The Roberts are alleged to be the most prolific darknet fentanyl vendor in the US and the 4th largest in the world.
MH4Life seems to have known his identity was discovered on the darknet because he posted a "Code Red" post before being arrested (below).

Also arrested as part of Operation Darkness Falls were Americans Antoin Austin, known as Dark King 22, who pleaded guilty to operating a fentanyl business from an apartment with children and Ryan Kluth, known as Panachecak, who pleaded guilty to selling fentanyl and child pornography on the darknet. They both used Bitcoin for payment.
Warning from Jeff Sessions that he will "put you in jail" if you facilitate the fentanyl crisis killing Americans
US Attorney General, Jeff Sessions, held the press conference announcing Operation Darkness Falls and he specifically sent a "warning" to, inter alia, "foreign nationals" and foreign companies, including CEOs, that if they put profits over the lives of American citizens in the fentanyl crisis, he is coming after them and will "put you in jail" or "make you pay."
The warning includes a warning to Canadians and Canadian companies, particularly Canadians in Vancouver.
That's because the DEA has said on numerous occasions, including in the National Drug Threat Assessment, that fentanyl is coming into the US primarily from Canadians (Vancouver) who import it from China. Although fentanyl in the US also originates from Mexican cartels, according to the DEA, it is less desirable and less pure. Canadians buy fentanyl illegally from China using Bitcoin and other digital currencies.
Those in Canada who import fentanyl from China destined for the US cannot do it without financial services.
The DEA has said that fentanyl vendors in China prefer to get paid in Bitcoin using OTC Bitcoin traders. OTC Bitcoin traders are traders who buy and sell Bitcoin personally, usually without physical offices, who are not registered for anti-money laundering purposes. If the fentanyl trade is carried out from Vancouver, it would mean that there are OTC Bitcoin traders doing large cash transactions for Chinese foreign nationals in Vancouver.