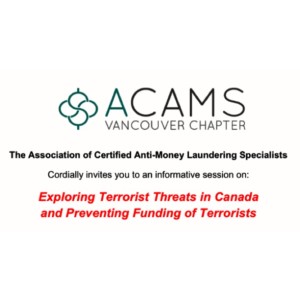 On behalf of the Association of Certified Anti-Money Laundering Specialists in Canada, we're pleased to announce a wine & cheese on the important topic of understanding terrorist threats in Canada and ways to stop terrorist funding on December 3, 2014 in Vancouver.
The session is aimed at providing guidance to financial institutions, money services businesses, insurance companies, casinos, brokers, electronic and other payment processors and digital financial services.
The 2 hour session will be led by a counter terrorism specialist from the RCMP with a wide range of expertise in this area in Canada and in other countries.
The session will be held at the Terminal City Club at 4:00pm. Registration is available here and space is limited.