Re-Writing Financial Regulation
Risk and innovation don't always go well together.
If banks, regulators, lawyers and companies involved in emerging FinTech could re-write financial regulation, including anti-money laundering and counter-terrorist financing regulation globally, what would it look like? What should stay, if anything and what's missing? Should we give a pass to emerging FinTech, payments and remittances or make them participate in the financial services sector on a level playing field with banks? Would it stifle innovation if we did that? What about financial inclusion – should we relax AML laws to undo the onerous effects of AML laws that contribute to financial inclusion problems?
Those are some of the issues that will be discussed at SWIFT's Sibos Conference 2015 on October 13, 2015 in one of the most interesting and thought-provoking panels at the Conference.
Panelists
The panelists are:
Hamilton Ray, Founder, Collective Next
Bernard Wee, Executive Director, Financial Markets Development, and Payments, Monetary Authority Singapore
Natasha de Terán, Head of Corporate Affairs, SWIFT
Anju Patwardhan, Group Chief Innovation Officer, Standard Chartered Bank
Christine Duhaime, Founder, Digital Finance Institute
Andrew Brown, Global Head of Compliance & MLRO, Earthport
Akhtar Badshah, PhD, Chief Catalyst, Catalytic Innovators Group
Sean Park, Founder & Chief Investment Officer, Anthemis Group
Dan Kimerling, Co-Director, API Banking, Silicon Valley Bank
Financial Inclusion
We'll also be participating in two sessions on financial inclusion, including one that will discuss the Refugee Bank, the first initiative in the world to address financial inclusion for refugees and migrants and to bank them institutionally, which is a project we started at the Digital Finance Institute.
Panelists
That session's panelists are:
Kosta Peric, Deputy Director, Financial Services for the Poor, Bill & Melinda Gates Foundation
Christine Duhaime, Founder, Digital Finance Institute
Sam Maule, Emerging Payments Practice Lead, Carlisle & Gallagher Consulting Group, an NTT Data Company
Akhtar Badshah, PhD, Chief Catalyst, Catalytic Innovators Group
Daniel Marovitz, President, Europe, Earthport
Sibos is the pre-eminent global banking conference with upwards of 8,000 bankers, financiers and regulators in attendance. Come join the discussion at Sibos!
Digital Finance Toronto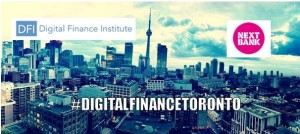 If you want to hear more about the balancing act of innovation and regulation in North America, the Digital Finance Institute Toronto Conference on September 30, 2015 will also cover both financial inclusion and the regulatory issues facing banks, payments and FinTech companies.