Notorious Sinaloa cartel
Andrew Hogan, a former agent of the Drug Enforcement Agency (DEA), who, as part of a multi-agency task force that included Homeland Security Investigations, successfully hunted and located the most wanted cartel leader in the world, El Chapo Guzman, says that when monitoring the Sinaloa's activities, they [the DEA] were most surprised by the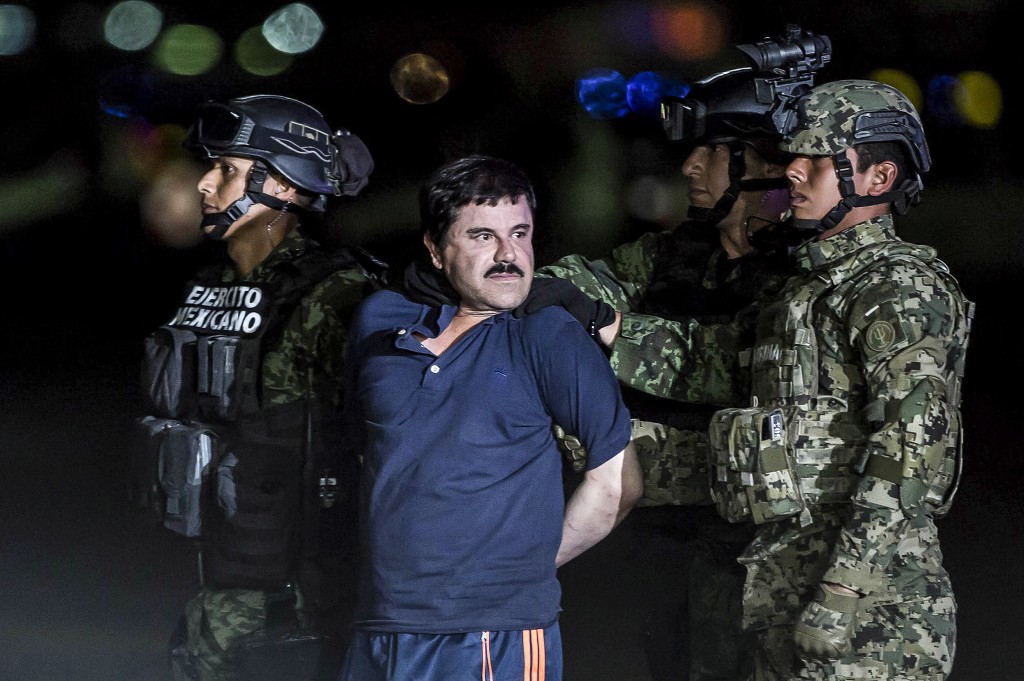 extent of El Chapo's operations in Canada.
El Chapo was the head of the Sinaloa cartel in Mexico and the Sinaloa cartel was the most powerful drug cartel under his tenure.
Hunting El Chapo
In his book "Hunting El Chapo", Hogan describes how he and his colleagues monitored and traced cell phone records to locate El Chapo, and during that process, they learned how the Sinaloa was expanding to the Philippines, the UK, and the Netherlands, searching for commercial properties with refrigeration capabilities for drug trafficking purposes.
[Transnational criminal organizations seek refrigeration services because drugs are often trafficked internationally in bulk food shipments – steaks, vegetables. For example, the Montreal mafia are allegedly known to send drugs from the Dominican Republic to Canada hidden in refrigerated food products such as eggplants or green peppers.]
El Chapo's "deep infiltration of Canada"
But Hogan writes: "We were caught off guard by his [El Chapo's] deep infiltration of Canada." Keep in mind, this was late 2015 – not that long ago.
He writes: "In terms of profit, Chapo was doing more cocaine business in Canada than in the United States [… because retail cocaine in the United States is less profitable than in Canada]."
"His key cartel lieutenants could exploit weaknesses in the Canadian system – the top heavy structure of the Royal Canadian Mounted Police hampered law enforcement efforts for even the most routine drug arrest and prosecution. It was a perfect match for Chapo – hindered law enforcement and an insatiable Canadian appetite for high grade coke," writes Hogan.
Not surprising, most of what Hogan writes about Mexican drug cartel activities in Canada are connected only to Vancouver.
Mexican cartel helped by Iranians in Vancouver to traffic drugs
He describes how Iranians in Vancouver are in bed with the Sinaloa cartel and El Chapo, and work on the importation of drugs into Canada for the cartel.
He writes: "The Sinaloa cartel had built a formidable distribution structure, smuggling loads of cocaine across the Arizona border and hauling them to stash pads and warehouses in Tucson and Phoenix before they were driven by car to the Washington border where the loads would be thrown into private helicopters. The helicopters would jump the border and drop the coke out among the tall lodge pole pines of British Columbia. Chapo's men had connections with Iranians in Canada."
He describes how Canadian Iranians working for the cartel buy airplanes and smart phones for the cartel. Once the drugs are in Vancouver, it appears that the Iranians pass the drugs to the Hells Angels who are in charge of moving the drugs across Canada. With respect to smart phones, the Sinaloa used an encrypted communications service developed in Vancouver for international drug cartels that allowed them to communicate through an encrypted network. The service was called Phantom Secure.
Fake Bananas Filled with Cocaine Shipped to Vancouver
In his book, Hogan describes how as they got deep into Sinaloa and cartel land in Mexico, nearing in on the capture of El Chapo, they came across a warehouse of green bananas and remnants of cocaine-cutting agents. The green bananas were plastic, used for international shipments. A single fake banana holds half a kilo of cocaine and Hogan writes: "Immediately I remembered how Hondo in British Columbia was constantly looking for a warehouse large enough to store fruit deliveries for the 'Boss'. These fake bananas were most likely going directly to Vancouver to be unloaded then shipped out to cities all across Canada."
Sinaloa cartel sends Mexican cartel member to live in Vancouver and launder their drug money
In "Hunting El Chapo," Andrew Hogan also describes how the Sinaloa cartel sent one of their people to Vancouver, 22-year-old Jesus Esperanza, to run the money laundering and drug distribution operation for the cartel.
Esperanza's front was to register as a student at a school called Columbia College in Vancouver. In actuality his job was to collect the proceeds of crime across Canada for El Chapo and arrange to launder it back to Mexico. Hogan describes how Esperanza sent reports to El Chapo providing a daily status report about the cartel's business in Canada, which the DEA would read, such as:
Vancouver – Day X – Collected $560,000 [in proceeds of crime] and sold 95 kilos of cocaine in Vancouver;
Winnipeg – Day X – Collected $275,000 [in proceeds of crime] and sold 48 kilos of cocaine in Winnipeg; and
Toronto – Day X – Collected $2,000,000 [in proceeds of crime] and sold 150 kilos of cocaine in Toronto.
Over $1 billion annually from Canada in Mexican cartel proceeds of crime
As you can see, El Chapo pulled in $2,835,000 in cocaine sales on one day's report in just three cities in Canada. Since drugs sales are 24/7, the annual take for El Chapo in Canada on an annual basis can probably be estimated to be $1,040,250,000, or slightly over $1 billion, which would have to be laundered back to Mexico from his lieutenants in Vancouver through financial intermediaries. You can read here how El Chapo and Sinaloa cartel members sent cocaine and fentanyl to Buffalo disguised as, or hidden in, food imports using private companies, and laundered the proceeds of crime through US banks.
El Chapo was captured on January 8, 2016, in Mexico, extradited to the US and is now on trial in New York for drug trafficking, money laundering and organized criminal activities.
In "Hunting El Chapo", Hogan describes how officials at the Canadian phone manufacturer, Blackberry, provided intelligence related to the cellular phone use of El Chapo and other cartel members to the DEA and in the book, says that such information was provided quickly due to relationships forged with Blackberry. It is the intelligence from the use of Blackberry phones by El Chapo and the Sinaloa cartel, and the interception of Blackberry PIN messages and the pinging of Blackberry phones that led to the location and capture of El Chapo.
Columbian cartel in the mix in Canada
Hogan also makes passing reference to a Blackberry user named "Panchito", who he believes was Hildebrando Alex Cifuentes-Villa, a member of the Columbia drug trafficking cartel Cifuentes-Villa, who worked with the Sinaloa cartel in Mexico. According to the cellular records analyzed by Hogan, members of the Sinaloa cartel sent "command and control messages" to Panchito "mostly about El Chapo's Canada operations", which seems to suggest that the Cifuentes-Villa family in Medellin, Columbia, was also involved in drug trafficking in Canada for El Chapo. The brother of Panchito is testifying in the trial of El Chapo in New York.
Well-known cartel leader obtains Canadian passport
Since El Chapo's arrest, it is believed that the Cartel Jalisco Nueva Generacion (CJNG) led by former police officer El Mencho, whose real name is Nemesio Oseguera-Cervantes, is now Mexico's most powerful cartel. The US government is offering a $10 million reward for the arrest of El Mencho.
The brother in law of El Mencho, Abigael Gonzalez Valencia, despite being a well-known cartel leader and international drug kingpin and on the US OFAC list [which prohibits anyone from providing financial or other services to him], was somehow able to obtain a Canadian passport (passport no. JX755855), which if not a fake passport, means that he acquired Canadian citizenship. He was indicted in the US in 2014 and is in jail. He has several other aliases on identity products including aliases Paul Jonathan Tak Toledo, Luis Angel Gomez Flores and Luis Angel Gonzalez Valencia and several dates of birth on his identity products ranging from October 1972 to 1979.
Abigael Gonzalez Valencia is also the brother of El Mencho's wife, Rosalinda Gonzalez Valencia. She is believed to be in charge of laundering all the proceeds of crime for the global operations of the CJNG. She was just released from jail on bail in Mexico. It is not known if El Mencho's wife, the sister of the drug kingpin with the Canadian passport, Abigael Gonzalez Valencia, also obtained a Canadian passport or if El Mencho was able to obtain a Canadian passport as well.
The US Department of Justice considers the CJNG to be one of the five most dangerous transnational criminal organizations in the world.