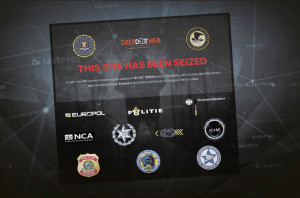 The US Department of Justice for the Western District of Pennsylvania announced the unsealing of a federal indictment in Pennsylvania of two Israeli men who are alleged to be the co-owners and administrators of the website Deep Dot, which charges them with conspiracy to commit money laundering in association with that website. The site acted as a news source for information in respect of the Darknet but it also provided addresses of Darknet marketplace sites accessible on TOR and links to the sites on TOR. The accused were arrested simultaneously in Israel and France.
The website was seized by the FBI and taken offline.
Darknet marketplaces are websites that sell illegal goods and services for Bitcoin. Fentanyl sales from China are often transacted on Darknet websites on TOR and paid for with Bitcoin, then cashed out at a digital currency exchange for fiat through a bank.
Some Darknet marketplaces also sell illegal weapons, offer murder for hire services and traffic in stolen identity products and sell child pornography. Some of these sites broker sales of stolen customer and account data from banks and credit card issuers in order to allow fraudsters to steal millions of dollars online from banks. All of this activity is paid for with Bitcoin and cashed out at digital currency exchanges for fiat, with criminals looking for exchanges with the most rapid and least friction in cash outs where AML processes are less stringent than at banks.
The site allegedly generated millions of dollars in commissions by providing kick-backs to the site owners when purchases were made with Bitcoin from a Darknet site of illegal goods and services.
Over 23% of all of the AlphaBay transactions (the Canadian Darknet website on TOR that processed over $1 billion in illegal goods and services using Bitcoin), came from a referral from Deep Dot. Hansa, another Darknet website that was taken down, received half of its customers from Deep Dot. In total, the two indicted are alleged to have received 8,155 Bitcoin in commissions for website linkages that generated commissions, equal to more than US$15 million.
The indictment mentions a Darknet marketplace site called Tochka Market. Tochka Market advertised the launch of an initial coin offering to raise money, and issued a white paper for its ICO to support its TOR activities. According to the indictment, Tochka Market has been in operation since 2015 and sells illegal narcotics, counterfeit goods and other contraband.
The first take down of an online marketplace on TOR was Silk Road. Its creator and administrator, Ross Ulbricht, is serving two life sentences in a federal jail in the US after having been convicted by a jury of narcotics trafficking over the Internet, operating a criminal enterprise, computer hacking, trafficking in stolen identity products in order to defraud banks and open accounts to defeat AML purposes, and money laundering. He forfeited $183 million in Bitcoin proceeds of crime. His darknet marketplace allowed anyone, including teenagers, to use Bitcoin to buy heroin online and have it shipped to them using the US postal service. Several teenagers died of drug overdoses from Silk Road. Silk Road trafficked as well in child pornography, human trafficking and weapons. At his sentencing, the learned Judge noted that after thinking about it for just six minutes, Ulbricht approved listing cyanide for sale on Silk Road, knowing that people would buy it to murder others but he didn't care so long as he would earn commission in Bitcoin from the sales.
The Deep Dot website was also used for non-criminal purposes by researchers and financial crime investigators and wallet tracers.