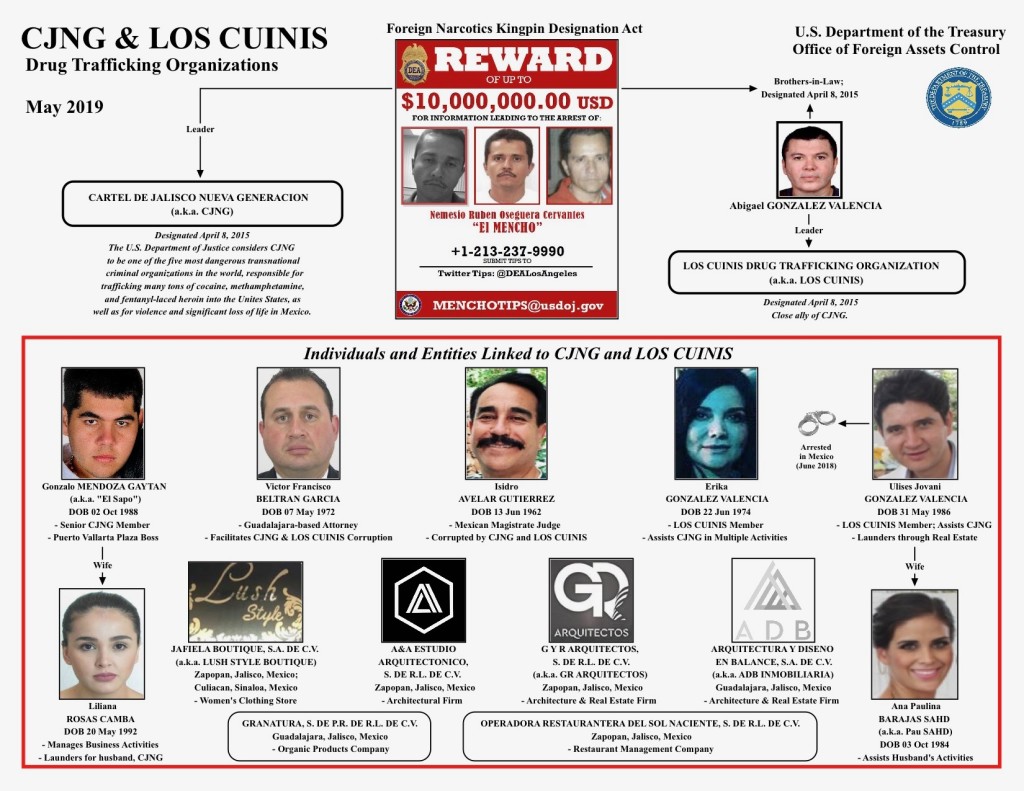 Last week, the U.S. Department of the Treasury's Office of Foreign Assets Control ("OFAC") designated several people associated with the most powerful drug cartel in Mexico, the Cartel Jalisco Nueva Generacion (meaning the new generation cartel of Jalisco), as drug kingpins.
Added to the drug kingpin sanctions list is a Mexican Judge, Isidro Avelar Gutierrez, who is believed to have accepted bribes from the CJNG and determined justice according to how he was bribed.
The former governor of the Mexican state of Nayarit, Roberto Sandoval Castaneda, and his three children, were also designated by OFAC for allegedly misappropriating state assets and accepting bribes from the CJNG (in the case of the governor) and living off the avails of the proceeds of crime and corruption (in the case of the children). This designation was pursuant to Executive Order 13818, Blocking the Property of Persons Involved in Serious Human Rights Abuse or Corruption (the Global Magnitsky Human Rights Accountability Act). 
Also designated were three women, including two alleged significant money launderers, Lilliana Rosas Camba, the wife of Gonzalo Mendoza Gaytan and Ana Paulina Barajas Sahd, who allegedly launder the proceeds of international drug trafficking activities for the CJNG.
The leader of the CJNG is Nemesio Oseguera Cervantes, also known as El Mencho. El Mencho was a former state police officer. He is now the most wanted drug kingpin in the world with a bounty of US$10 million for his capture.
The CJNG is alleged to have amassed a fortune of US$20 billion. 

The CJNG focusses on the production and export of synthetic drugs and have the lion's share of the meth trade, with drug trafficking routes in several countries on six continents, controlling half of Mexico, including both coasts and both borders.
The CJNG is known for being extra violent and, for example, stewing the bodies of murdered people in acid to eliminate identity evidence.
Jalisco has the highest number of disappearances in Mexico topping 3,000 per year. There were 11,241 murders linked to transnational criminal organizations in Mexico in the first half of 2018.
In 2015, the CJNG was listed by OFAC as a Specially Designated Narcotics Trafficker pursuant to the Foreign Narcotics Kingpin Designation Act. The listing designation means that all the assets of the CJNG and its members (such as bank accounts, investments, homes, etc.) in the US or under the control of US persons or entities (such as accounts opened by Canadian banks that have a US presence, or Canadian entities operating in the US or that have US bank accounts) are frozen, and such persons and entities are prohibited from engaging in financial transactions with the CJNG or their members.
Penalties for violations of sanctions include fines of up to US$5 million and imprisonment of up to 30 years.