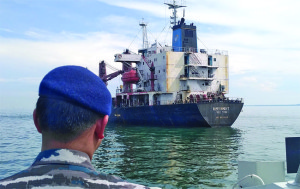 The US government unsealed a federal forfeiture complaint this week, seeking in rem forfeiture of a cargo ship that was used for sanctions avoidance to benefit North Korea which used US correspondent banks to engage in sanctions avoidance. The case has no tie to the US except for the use of correspondent banks and is an excellent and important example of jurisdiction (competence or kompetenz) of the US that arises purely by virtue of correspondent banking of US denominated currency. This is the first forfeiture of a large cargo ship for sanctions violations.
The cargo ship, M/V Wise Honest, was seized by Indonesia in April 2018 and then by the US pursuant to a Court order. It was transporting coal from North Korea to foreign buyers, which violates UN Security Council Resolutions as well as US sanctions law. Authorities found evidence that the cargo ship was used to import into North Korea, heavy machinery, and then coal out of North Korea. The cargo manifest indicated that the coal was from Russia but satellite pictures tracked the course of the vessel from docks in North Korea to Indonesia. The complaint alleges that the M/V Wise Honest turned off its AIS system while in transit to avoid detection of its location and course when it left North Korea.
The ship is registered in North Korea but in order to obtain supplies and services, the ship owner allegedly sent details in respect of the vessel from letterhead showing an address in Hong Kong, and at other times represented the vessel's nationality was Tanzanian.
Correspondent Banks
In order to pay for its operations, the ship's owner would buy goods and services and pay for those goods and services by wiring funds, which used the SWIFT network and which had to pass through correspondent US banks where such payments were denominated in US dollars. US correspondent banks are subject to US sanctions.
The way it works under correspondent banking law is that a person from China, as an example, sends a wire in USD to a person in Germany, for example. The bank in China debits the customer's account then transmits the payment instructions to the US correspondent bank which debits the customer's bank account while transmitting those US dollars from the US bank to the recipient's bank in Germany, which credits its customer's bank account. The use of USD triggers the use of a US correspondent bank and ergo, invokes US law for all those transactions, including sanctions law.
The payment of goods and services for the M/V Wise Honest that used the correspondent banks in the US was prohibited by sanctions law and thus the persons associated with the M/V Wise Honest violated US sanctions law by making those wire payments, the proceeds of crime of which are subject to forfeiture. According to the complaint, more than 30 such payments were sent in violation of US sanctions law, totalling US$750,000.
The M/V Wise Honest is worth $2.9 million.
UN Security Council Report on M/V Wise Honest
The United Nations Security Council commissioned a report in respect of the M/V Wise Honest, available here. It found that:
A Blockchain / Bitcoin company called Marine Chain was set up in Hong Kong and launched an ICO with a DPRK individual behind the company to engage in the cargo shipping business and the UNSC says there is concern that it could be used to raise funds for North Korea, for sanctions avoidance and to obfuscate cargo vessel movements. It raised $500,000 in its ICO.
Global banks and insurance companies are facilitating payments and providing coverage for vessels involved in illegal shipments of petroleum and coal in violation of sanctions.
Luxury car manufacturers such as Rolls-Royce, Mercedes-Benz and Lexus are indirectly selling luxury and racing cars to North Korea in violation of sanctions law, in some instances in the past, such vehicles were bought in bulk and were shipped to California, then to China, then to North Korea.
Cargo captains are being paid in bulk cash for piloting cargo ships that violate sanctions, and mention was made of the case of Kim Kwang Il,  who is on the UN sanctions list, who received US$179,000 in a black garbage bag seized by Russian authorities.
Banks in western countries are not de-risking the accounts of foreign nationals from North Korea or seizing assets, as required.
Relevant Legislation
Relevant legislation in this post:
United States Code, 18 U.S.C. § 981(a)(1)(C), 18 U.S.C. § 981 (a)(1)(A), 18 U.S.C. §1956
United States Code, 28 U.S.C. §§ 1345, 1355
International Emergency Economic Powers Act, 50 U.S.C. § 1701
North Korea Sanctions and Policy Enhancement Act of 2016, 11 U.S.C. § 9201 et seq.
United Nations Security Council Resolution 1718 (2006), S/RES/1718
United Nations Security Council Resolution 2094 (2013), S/RES/2094
United Nations Security Council Resolution 2270 (2016), S/RES/2270
United Nations Security Council Resolution 2397 (2017), S/RES/2397
Executive Orders 13382, 13466, 13570, 13687, 13722, 13810
Weapons of Mass Destruction Proliferators Sanctions Regulations, 31 C.F.R. § 544.101 et seq.
North Korea Sanctions Regulations, 31 C.F.R. Part 510