Canadians among top users of seized darknet drug and weapons site
The Italian Guardia di Finanza has arrested three individuals in Italy who are alleged to have operated the darknet site on TOR called the Berlusconi Market.
The Berlusconi Market had over 100,000 illegal goods and services listed for sale such as illegal drugs, fake ID products, guns, explosives, child pornography, stolen credit card numbers and stolen bank account credentials. Its three main countries of customers were US, Canada and Australia. It accepted only Bitcoin, Monero and Litecoin for payment.
Canada is one of the leading jurisdictions for the operation and use of darknet marketplaces, and appears to be the only country in the world with a digital currency exchange (in Vancouver) that facilitates Bitcoin trades on TOR for users in any country in the world, including Iran, irrespective of sanctions.
One of the top vendors, for example, on the Berlusconi Market was a vendor named "ming-dynasty" in Canada.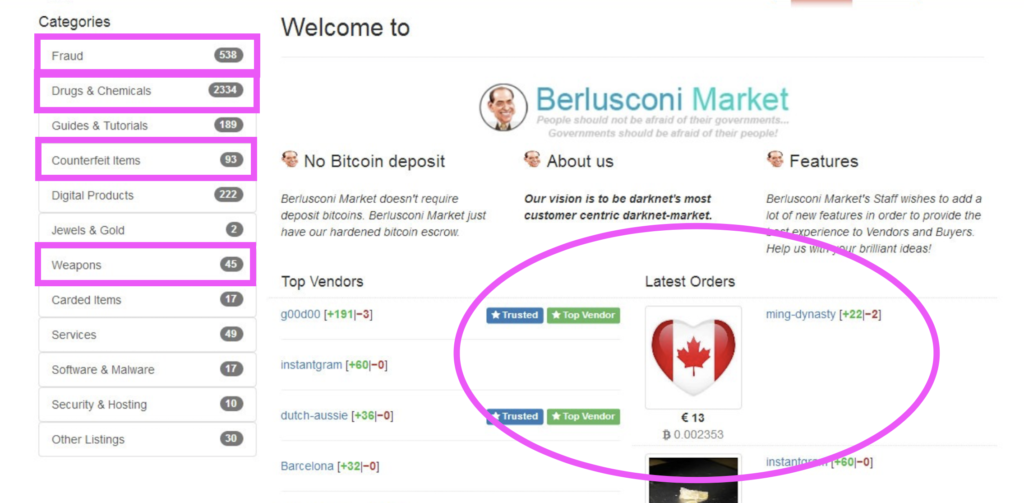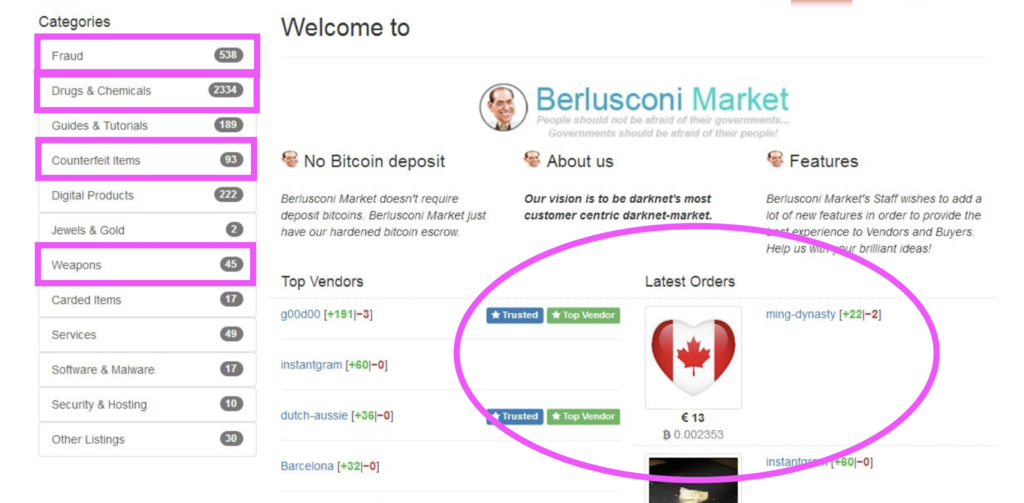 Teenage computer engineering student was darknet mastermind
The Berlusconi Market was shut down by the police. Its mastermind was allegedly a teenage computer engineering student named Luis di Vittorio, who is 19-years-old.
In May 2019, Italian police arrested a prolific user of the site and seized 2.2 kg of cocaine, ketamine, and MDMA and 41 Bitcoin. The user was also an admin on the Berlusconi Market, which led to the arrest of the other admins.
In addition to Luis di Vittorio, Giannicola Ruscino and Gianluca De Martino were also arrested on allegations that they are the co-owners of the site. Berlusconi Market processed $2 million in transactions per year, a low amount compared to the Canadian owned darknet site that operated for several years in Quebec.
Money laundering "bank drop" services for sale
The Berlusconi Market even listed for sale the services of vendors all over the world who would conduct what are called "bank drops", which are money laundering services whereby the proceeds of crime are dropped in bank accounts for a third party for a commission in order to obfuscate the source and the movement of funds.
As the investigation unfolds, it will be interesting to see who in Canada offered for sale or bought "bank drop" money laundering services. Considering the connection to Italy, it may be safe to presume those services were Toronto-area based.
Bitcoin digital currency exchange used by darknet site seized
During the operation, commercial premises of a digital currency exchange were seized in Barletta, Italy, which the admins presumably used to buy and exchange Bitcoin. Darknet operators and its users ultimately must exit out through a digital currency exchange in order to cash out and so they tend to have several accounts at multiple digital currency exchanges to spread the risks across countries and areas. One of those is always, according to known typologies, in their real name.