Updated July 8, 2020
Cease trade order against foreign entity
The British Columbia Securities Commission (the "BCSC") has issued an intriguing order that all persons must cease trading (the "CTO") the shares of a non-British Columbia company called Sandy Steele Unlimited Inc. ("Sandy Steele"). Sandy Steele is a pubco incorporated in Minnesota that appears to have an office in California. Its shares are quoted on the OTC markets platform under the symbol SSTU.
The order is intriguing because it is in respect of a non-British Columbia reporting issuer that must have a material connection to British Columbia. We don't know what that connection is but clearly the BCSC does, and the Securities and Exchange Commission ("SEC"), considering that this is a US entity.
Mystery person in British Columbia?
According to the terms of the CTO, Sandy Steele is being directed or administered in or from British Columbia and its promotional activities are being carried out in British Columbia.
But by who?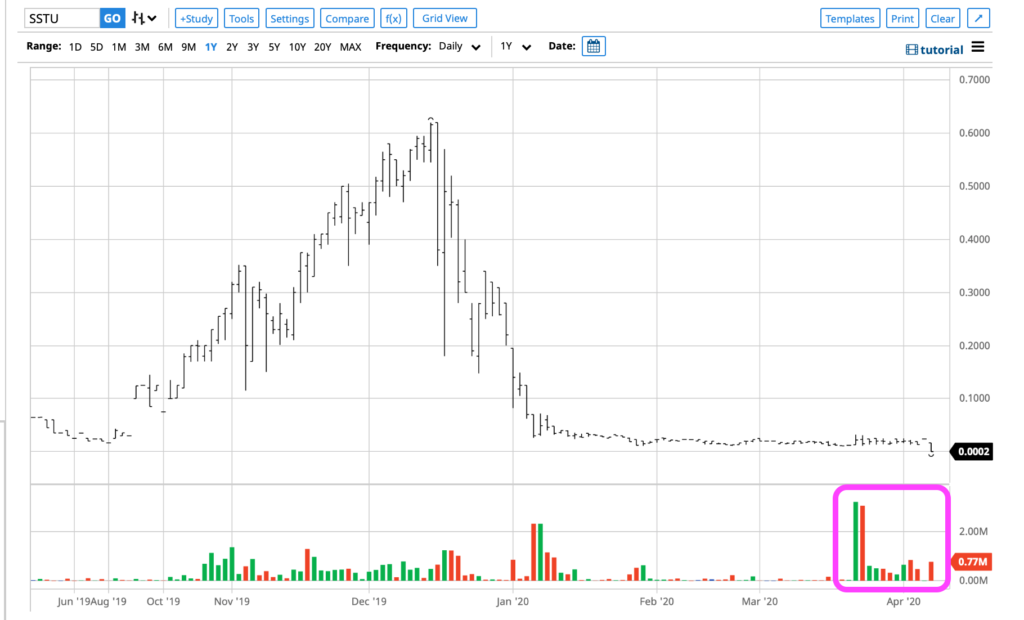 Previous Covid-19 suspension of trading
The shares of Sandy Steele were previously temporarily suspended from trading by the SEC over concerns arising from Covid-19 promotions by promoters, inter alia, who e-mailed investors claiming that Sandy Steele could produce protective masks that were in high demand because of the Covid-19 pandemic and subsequent substantial sales of its shares in offshore locations. The SEC suspension order suggests that Sandy Steele's disclosure material indicates that it lacks operational and financial capacity to manufacturer protective masks for Covid-19.
Battery powered merch
According to the website of Sandy Steele here, it does not produce medical equipment. It says it produces battery powered clothing for sub-zero environments, such as socks, vests, pants and gloves, using a battery that has a "patent pending". There is no patent application for a battery filed by Sandy Steele with the US Patent and Trademark Office. The website lists a few items of merch for sale but there is no ability to check out online and buy a pair of patent-pending-battery-heated pants or socks like the ones below.
Hot socks

Hot pants
Sandy Steele represents on its website that the company did battery R&D for Rosneft, Russia's state-owned oil exploration company, and made such strides that it is in consultation with several "G20 countries and their militaries" (bolded in the original). According to their website, a team of three aims to be the "world standard" in battery production. The website doesn't address how battery powered merch meshes with Covid-19 protective masks.
Also in anti-aging cream space
A year ago here, Sandy Steele said it had no location, one piece of equipment in a warehouse in China, and was creating anti-aging beauty products.
County Line Energy Corp. also CTO'ed
This is not the first MI51-101 CTO issued against a foreign entity by the BCSC, but they are infrequent.
In 2013, the BCSC issued a MI51-101 CTO against a Nevada company called County Line Energy Corp., requiring it to file its disclosure material for investors. According to SEDAR, it does not have a profile and has not filed any continuous disclosure material on SEDAR. That issuer went through a number of name changes and is now called County Line Energy Inc. and went from mining to oil and gas exploration and now to cannabis. The BCSC refreshed its CTO under MI51-101 against the new-named entity.
The company has an Alberta wholly-owned subsidiary called County Line Canada Inc. Its executive offices in its filings used to be at a Canada Post outlet at a pharmacy, namely at 100 – 11245 Valley Ridge Drive, Calgary, and then the company headquarters became this house here. It is now at another location.
Canadian control persons
According to its US filings, it has or had a beneficial owner and a control person, who is Canadian residing in Ontario, named Dennis Serruya who holds or held shares under Aravis Investments, and has or had a control person attached to a British Columbia numbered company, named Aarif Jamani, who lives in Burnaby, British Columbia. The numbered company is 0985358 B.C. Ltd.
In this old Vancouver Sun article from David Baines, Jamani is identified as a promoter. The article says that he and another promoter named Bob Vukovich were part of an FBI sting. According to David Baines, the two promoters appear to have hired Vancouver securities lawyer Penny Green for their securities law work back then.
A person named Vince Andreula acquired some of Serruya's shares of County Line Energy. Jamani and Andreula and several others acquired shares for services as the consideration (as opposed to for money). There is no disclosure of what FMV labour or services were provided to the company for those shares.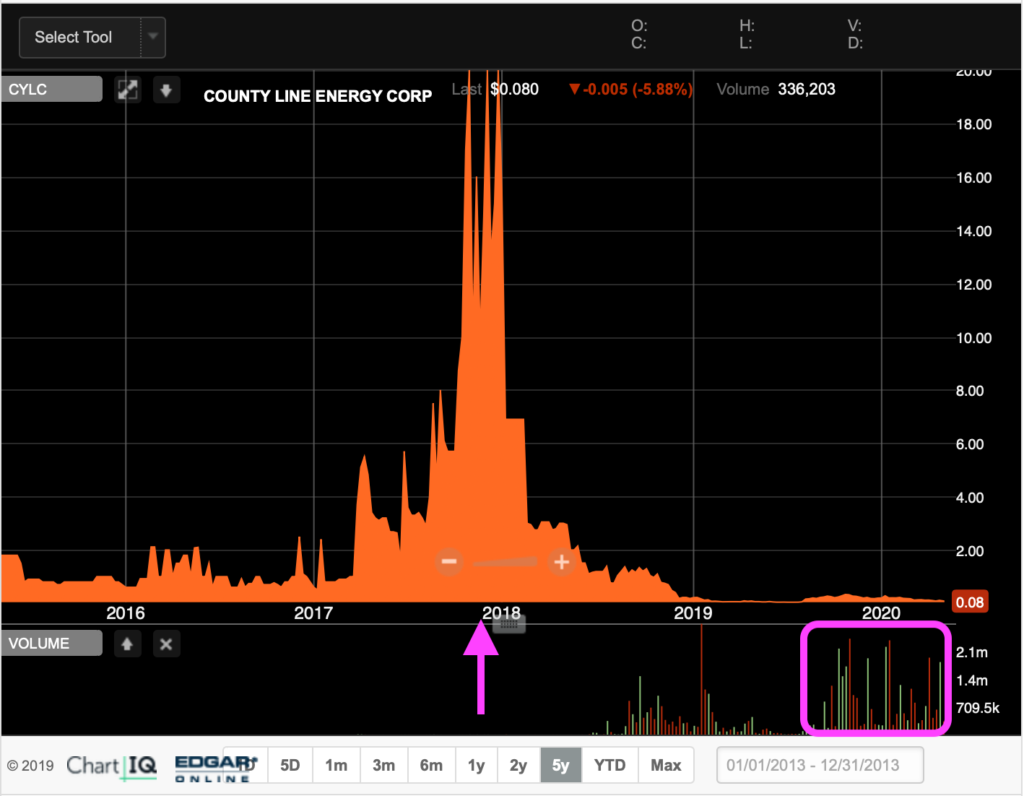 The Crypto Currency Mining Company Inc.
Vince Andreula runs something called "The Crypto Currency Mining Company Inc.", which is represented to be "a registered and licensed crypto currency company that specializes in Bitcoin mining services" in New Hampshire.
Its website says that its shares are listed "on the OTC pink."

There appears to be no listing for The Crypto Currency Mining Company Inc. on the OTC Markets listings.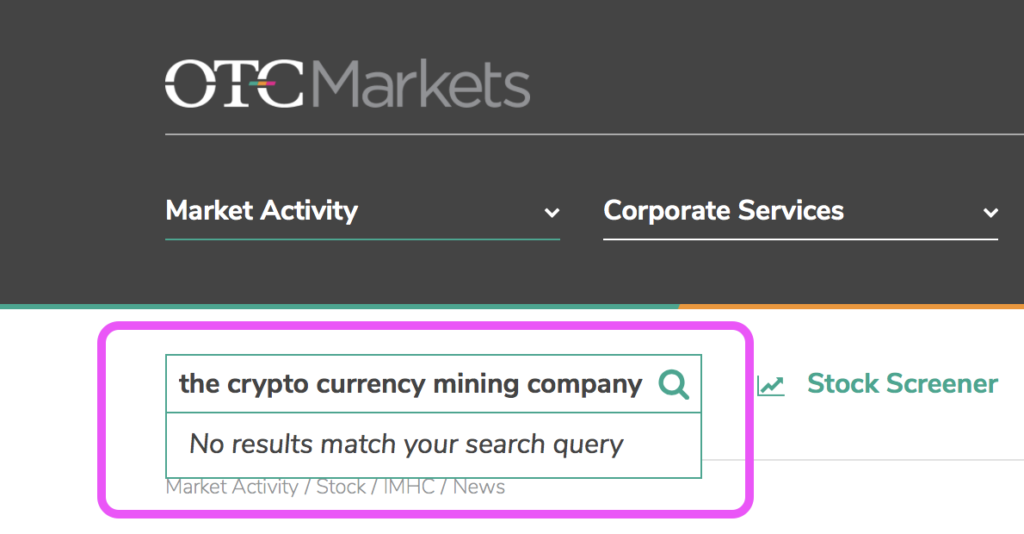 However, a related issuer called Imperalis Holding Corp., is listed on the OTC Markets. It says that it owns The Crypto Currency Mining Company Inc. and in 2018, it bought 100 pieces of mining equipment (mining equipment was approximately US$7k each) because the price of Bitcoin was expected to hit US$100,000 it stated. One of its press releases about thinning hair states that "Mother Nature herself" has brought us a new contender to beat hair thinning for men – "the humble rosemary plant" and offers the market "ancient wisdom."
In June, 2020, Imperalis Holding Corp. announced a new oil to help fight off viral infections "in light of the current situation and the growing demand to protect ourselves and those around us from viruses." Andreula was quoted as saying that, with respect to "the current pandemic," the company was providing consumers with an added line of defence to fight off viruses.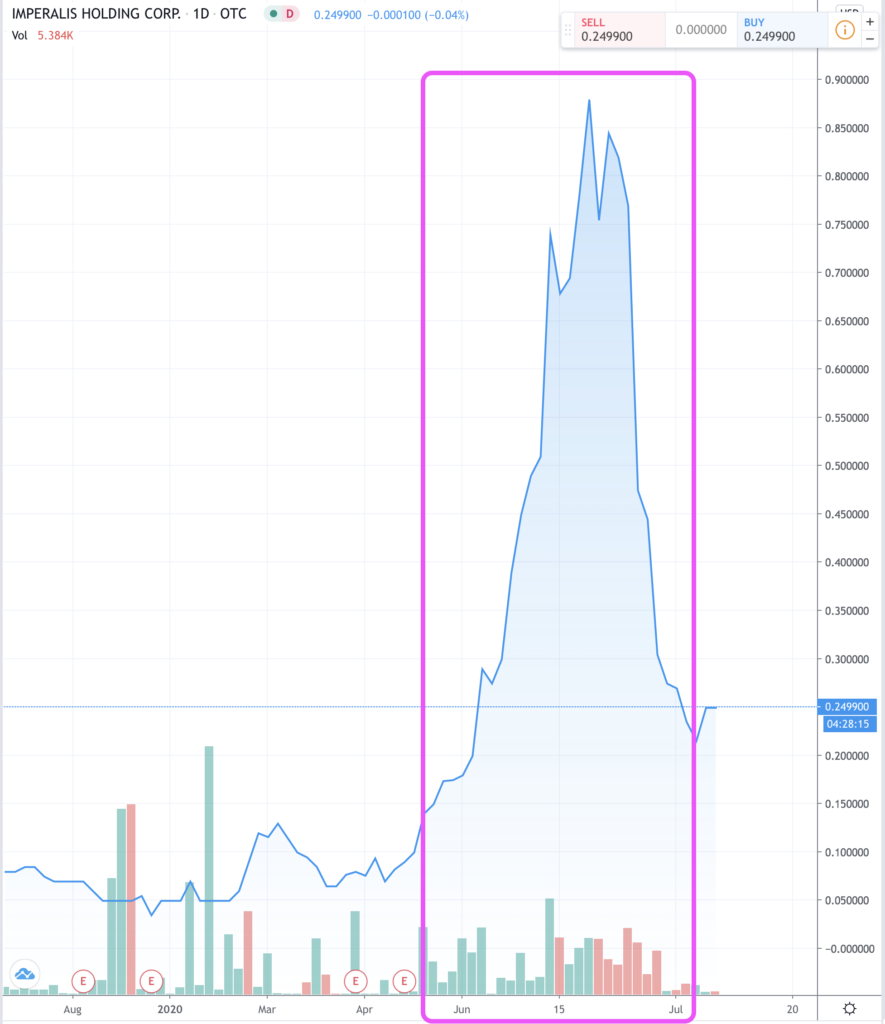 A cross-over of control persons
Another CTO was issued by the BCSC against a foreign entity under MI51-101 in 2015, named BRK Inc., with some of the same cross-over persons as County Line Energy.
According to its website here, it has filed to enforce a US$2.5 million civil judgment in a court in Canada, a move that acquiesces to the jurisdiction of Canada over the company.