According to an investigation by a number of journalists with the Journal de Montreal (here), two casinos managed by Loto-Quebec, a government agency, laid out the red carpet to well-known organized crime figures associated with the Cosa Nostra Mafia and Hell's Angels.
Stefano Sollecito was VIP gambler
Their investigation found that Stefano Sollecito, said to be a well-known member of the Montreal Mafia and the son of Rocco Sollecito, gambled $2.5 million over the course of 2 to 3 years at the Casino de Montreal. Moreover, Sollecito was treated as a casino VIP client, and with deference by registered casino employees during phone calls obtained by the Journal de Montreal.
In 2019, Sollecito was one of the top ten gamblers at the Casino de Montreal a few months after being released from incarceration for gangsterism and cocaine trafficking charges. According to the investigation, although a well-known Mafia figure, Sollecito had bank accounts at the TD Bank and the National Bank, which he used to deposit cheques from gambling winnings.
The investigation found that Vito Rizzuto's son, Leonardo Rizzuto, also gambled at casinos in Quebec.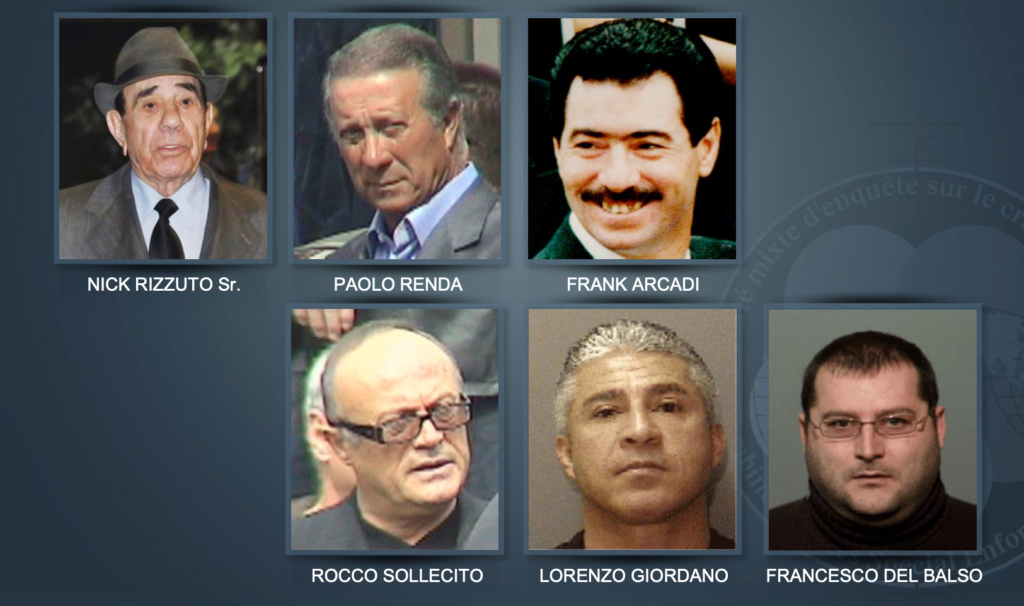 Journalist Eric Thibault, who participated in the investigation, said during a TV interview that organized crime at Quebec casinos was not new. He said that the RCMP learned during Operation Colisee, a project to dismantle the Rizzuto criminal organization, that Francesco Del Balso, said to be a well-known member of the Rizzuto organized crime family, had spent $7 million gambling with Loto-Quebec in three years and that Loto-Quebec had issued him cheques totalling $2.5 million.
Hell's Angels also at casinos
Members of the Hell's Angels also were permitted to gamble at government casinos in Quebec, including David Lefebvre and Gregory Woolley.
Hell's Angels member Gregory Woolley was seen by the Surete du Quebec meeting Ziad Ziade, a Lebanese organized crime figure, at a restaurant at the Casino de Montreal.
Sollecito was not simply allowed to gamble, he was also comped freebies at two Montreal area casinos as a VIP gambler including a free dinner for four, free golfing, free hotel rooms and free concert tickets.
The investigation by the Journal de Montreal reported that 18 organized criminal groups were found to have laundered money at casinos in Quebec.
Mr. Thibault said that Loto-Quebec's response to the investigation was that it followed all the laws applicable to it operating a registered casino as a government agency.
Did Loto-Quebec know?
You may be wondering – did the Loto-Quebec employees know these were organized crime figures? In one segment (here) as part of the published story, Richard Martineau interviewed one of the journalists who broke the story, Felix Seguin, and asks that very question directly. Here's how the conversation loosely went, translated from French:
Martineau: That's what I wanted to ask you, as a question – did they know?
Seguin: Well, of course…let me tell you a little story. At one point, the security of the Montreal Casino observed Mafia figures coming in to gamble in the millions per year and they filed reports with the lottery corporation. The lottery corporation informed FINTRAC that it believed that the Mafia was frequenting the Montreal Casino to launder money. FINTRAC responded "Yes, the Mafia is using you to launder money." With one hand, Loto-Quebec was reporting the Mafia to FINTRAC; with the other hand they were giving them gifts so that they would continue to spend money there. Do you see a problem of ethics and governance?
Martineau: But this is a problem of money has no smell – come gamble at casinos because we have a mission to bring in the most amount of money possible for the coffers of the state. We'll pinch our nose; we'll close our eyes, and that's it – incredible.
Seguin: What you just said there has a certain validity. In some countries and in provinces, we have nationalized gambling and regulate it, partly to make sure to keep Mafia out. In some places like Switzerland and Monaco, with regulated casinos what they do is super interesting – where they suspect a person is gambling with proceeds of crime, they charge a surtax on the funds to the Mafia gambler. And you know what? The Mafia figures actually pay the surtax to launder money! In Canada, we have nationalized gambling (government conducts and manages all gambling).
Martineau: A few years ago, I spoke to Revenue Quebec and asked them that, if I was the Mafia, if I had to pay sales taxes. They said yes, the Mafia has to pay those taxes by filling out a form and disclosing what the source is from, let's say, drug trafficking. I asked if Revenue Quebec would report me to the police and they said no, that Revenue Quebec is not "stouleur" (means a rat or a tattle-tale) and Revenue Quebec will not stouleur you to the police because there is a wall between us and law enforcement.
Seguin: I'm less sure that is accurate.
Martineau: No, he told me that. I asked if I could deduct my trips to Colombia to buy drugs and equipment I bought to weigh drugs and he said "yes those are your expenses." It was surreal.
Martineau: Look, Loto-Quebec is like Hydro-Quebec, a state agency within a state agency and they are opaque and its hard to get information because they protect it. You did a sacré job with this investigation (a "sacré job" with an investigation means a hell of an investigation).
Seguin: One of the issues we discussed in editorial meetings was if a Mafia passes a test of identity with Loto-Quebec and the test is faulty and they did not catch that it was the Mafia, what sort of standards do you have? In British Columbia, they have a commission looking at casino money laundering called the Cullen Commission and it deals with the same type of strategy as happened in British Columbia, and when we showed the Commission the Loto-Quebec documents they said it was "troubling and shocking." Meanwhile, Loto-Quebec said they practiced the highest standards.
You can read the original series of stories from the Journal de Montreal website here. The journalists' investigation and their writing of the stories that flowed from it really is a sacré job.