Netflix's "The Serpent", is bringing the story of Canadian Marie-Andree Leclerc back into the spotlight. Leclerc, together with her partner Hatchand Bhaonani Gurumukh Charles Sobhraj, aka Charles Sobhraj, were serial killers who, in the late 1970s and early 1980s, murdered several back-packers in Asia, stole their money and lived off the proceeds of crime. She was prosecuted for two of the murders.
Leclerc was from Levis, Quebec.
In 1975, Leclerc met Sobhraj, a Vietnamese foreign national, in India and fell in love with him. She returned to Canada, packed up her things and moved with Sobhraj to Thailand in 1975.
Their strategy involved befriending young tourists, drugging them, often killing them and taking their passports, cash and travellers cheques. They needed the passports to cash the travellers cheques but also used them to travel across Asia. They invented fake names – she was 'Monique' and he was 'Alain Gautier'.
One of the first victims was a tourist from Seattle named Teresa Knowlton. She was drowned in the gulf of Thailand near Pattaya. Some of Ms. Knowlton's belongings were found in the apartment of Leclerc and Sobhraj. It was not Sobhraj's first victim, though. He had left a trail of criminality across several countries before meeting Leclerc.
The next victim of the pair in Thailand was a Turkish national named Vitali Hakim. His body was found near the same town of Pattaya, as Ms. Knowlton. He had been badly burned. He had spent several days with Leclerc and Sobhraj before his death. Sobhraj used Hakim's passport to travel.
Two other victims, Heink Bintanja and Cornelia Hemker, were found dead and burned in Bangkok, and they too had spent time with Sobhraj and Leclerc before their deaths. Another victim, Ann Mary Parry, was murdered while she was searching for Vitali Hakim.
One of their victims who lived, Dominique Renelleau, who was poisoned over a three month period, later testified that Leclerc acted as the poisoner for the duo.
Another person who met Sobhraj but refused to engage with him further, as well as Nadine Gires, who lived in the same apartment complex as Leclerc and Sobhraj in Thailand, met many of the victims and describes her experiences below.
In December 1975, Leclerc and Sobhraj used the passports of Heink Bintanja and Cornelia Hemker to leave Thailand for Nepal. A few days after arriving, they murdered a Canadian, Laurent Armand Carriere, and an American named Connie Bronzich. After those murders, they traveled to India, where they killed an Israeli named Avoni Jacob. They then returned to Thailand.
Shortly after returning to Thailand, Sobhraj became aware that there was an investigation into the deaths of Heink Bintanja and Cornelia Hemker, among others, and that he was a suspect.
He and Leclerc fled to Delhi, where they hooked up with two women, Mary Ellen Eather and Barbara Smith – those four were then accused of poisoning and robbing a man named Jean-Luc Solomon, who was subsequently murdered.
Several months later, in New Delhi, they decided to drug a group of French tourists who reported it to the police. The four were arrested. Eventually, Sobhraj revealed his identity in prison.
In 1980, Leclerc was found guilty of the murder of Avoni Jacob. In 1983, she was diagnosed with cancer in prison and was allowed to return to Canada for one year under compassionate grounds to receive treatment. She appears in this video here, arriving back in Canada like a celebrity.
For unknown reasons, Canada never prosecuted Leclerc for the murder of fellow Canadian, Laurent Armand Carriere, when she returned to the country. Or for offences in connection with the possession and use of his passport by her and Sobhraj. Leclerc, together with Sobhraj, is believed to be connected to at least 20 murders, making her one of Canada's worst serial killers.
Leclerc died of cancer in 1984, after writing and publishing a number of memoires of her life in which she portrayed herself as an innocent victim of Sobhraj, and denied any complicity in the murders.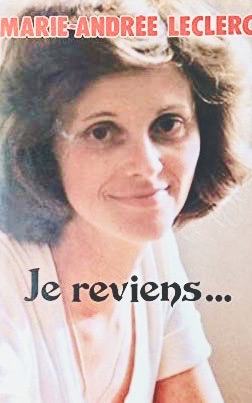 None of the victim's families have sought to disgorge from Leclerc's estate, the revenues from her books, or to sue Leclerc's estate for wrongful death in the civil sense.
A reporter from La Presse, Madeleine Poulin, travelled to India after the arrest of Leclerc and met with her. She says in this video (here), that her impression of Sobhraj was that he was a psychopath. With respect to Leclerc, she says that Leclerc tried to sell herself as a powerless person who herself was locked up by Sobhraj in the apartment in Thailand who had had no role in the murders.
Poulin, however, in her investigations in Thailand, visited the apartment in which victims were effectively incarcerated while they were poisoned to death and she notes that it would be impossible to be in that apartment and not see and hear the victims.
She also reported that people in the apartment complex who knew Sobhraj and Leclerc in Thailand told her that Leclerc was not locked-up and they saw her coming and going as she pleased.
Poulin also met Australian victims who survived and she said that the Australians told her that they were poisoned by Leclerc.
Poulin also says that the family of Leclerc in Quebec were very angry with her because her reporting detailed her findings in respect of Leclerc, as opposed to the story the family wanted told about her. Leclerc never expressed any remorse to any of the families of the victims and her family never expressed any compassion to those families either, in respect of the harm Leclerc caused.
In Nepal, Sobhraj was eventually convicted of killing Connie Bronzich. His lawyer alleged that the presiding judge accepted bribes in connection with his trial.
Sobhraj is still alive. He is believed to have committed major crimes in Thailand, Nepal, India, Iran and Afghanistan. Crime + Investigation here summarizes his crime spree.
Dutch diplomat, Herman Knippenberg, and his wife Angela Knippenberg, (who were not investigators or in law enforcement), worked for years to collect evidence and piece the case together in Thailand. They were investigating what happened to Bintanja and Hemker.
Eventually, the Knippenbergs identified Alain Gautier (Sobhraj) as the likely killer and connected their murders to several others which had occurred across Thailand. This article (here) describes their journey to bring Sobhraj and Leclerc to justice.
It was the RCMP in Canada who actually cracked the case because it was their investigation that made the key connection and determined that the person named Alain Gautier was actually Charles Sobhraj.