The petrol mafia case was first police case of 'Ndrangheta and Camorra convergence across Italy
A Deal with the Mafia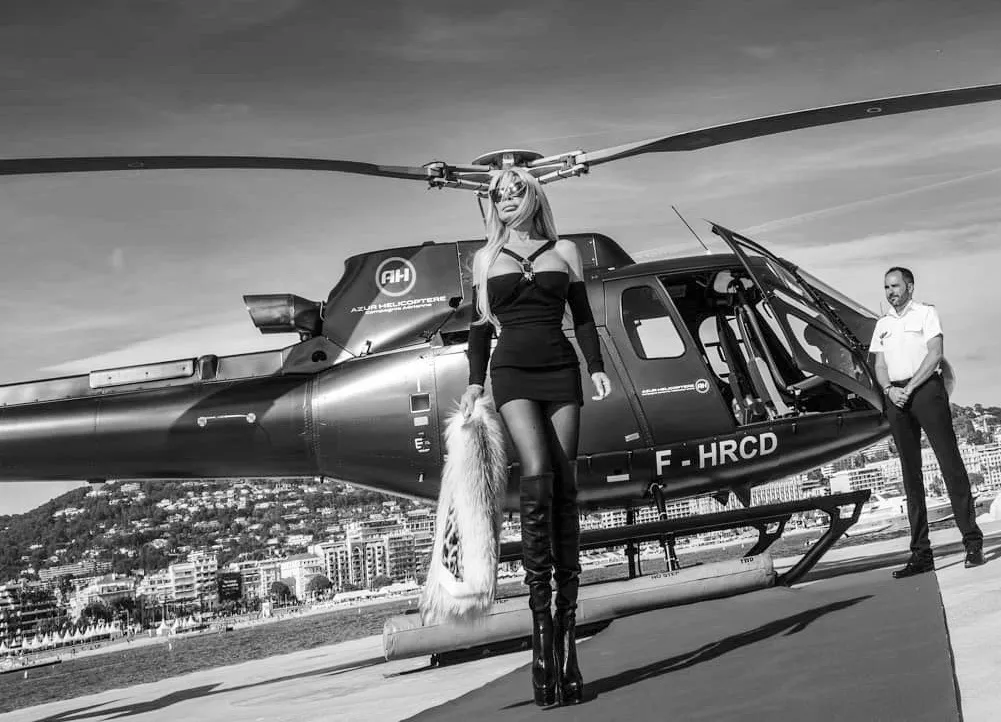 Here's a question – what do you do to revive a failed oil business you inherited if you have no business skills and no money?
You might make friends with a Mafia associate on Facebook. And if you're going to do this, you might as well go big and partner with the most feared and secretive Mafia organization in the world, the 'Ndrangheta. If it goes bad, you might be dead; if it goes well, you might build a billion-dollar empire of dirty money.
That's what Italian singer Ana Bettz did.
She almost couldn't help herself – she was set to lose her luxury hotel apartment in the fashionable district of Milan, her Bentley and Rolls Royce, and access to plastic surgeons on speed dial.
Ana Bettz, who is really Anna Bettozzi, went to the powerful Camorra families in Naples and the dreaded 'Ndrangheta in Calabria to finance her entry into the criminal world and become a petrol Mafia.
With their help, she built a billion-dollar empire that spread across Europe, using numerous shell companies to traffic in petrol and launder hundreds of millions for the Mafia.
A Ride to the Cannes Film Festival
It almost came crashing down in May 2019.
Bettozzi was on her way to the glamorous Cannes Film Festival in France to party with the rich and famous, being chauffeured in her favorite car – the Rolls Royce. Her deal with two of Italy's most powerful Mafia groups was going well; business was booming.
The six hour drive from Milan to the Italian northern border town of Ventimiglia was pleasant enough; she could see Sardinia, her homeland, in the far distance across the glittering blue Ligurian Sea, as the car raced along the Italian coast.
In the trunk of the Rolls, she had stuffed €300,000 in dirty bills into a pair of high boots – a perfect way, she thought, to smuggle cash into France and avoid making a currency declaration at the border.
She had to hide the cash otherwise it would raise messy questions about its provenance.
She couldn't exactly tell French border guards that it was from bootlegging oil with the 'Ndrangheta. They would call Italy's financial police, the Guardia di Finanza, and anti-Mafia investigators, the Direzione Investigativa Antimafia (DIA). The gig would be up and she couldn't risk that. It wasn't just the police she would have to face; she would also have to face the Mafia.
Under Surveillance
If Bettozzi had been paying attention during the trip from Milan to the French border, she might have noticed that the DIA and the Guardia di Finanza had been following her Rolls Royce for over six hours, from the moment she had stepped out of the lobby of the Gallia Hotel that morning.
The 'Ndrangheta and secret service agents share a common operating rule – always have a mirror to your back. Bettozzi preferred her own rule – keep the mirror on your own face. For the past few months, teams of federal law enforcement agents had her under surveillance after she came on their radar when she made a call to the Mafia on a phone line they were intercepting, discussing the petrol smuggling business.
As the Rolls passed though the small town of Ventimiglia and approached the Italian-French border, the Guardia di Finanza made their move. They stopped her car before she could enter France. Bettozzi was detained.
Call to Mafia Lawyer
She asked to make a call to her lawyer – Ilario D'Apolito. She was playing right into their hands. You see, D'Apolito was the lawyer for the petrol trafficking operation with the Mafia who, police say, allegedly incorporated shell companies for the criminal operation.
He was one of the people they were investigating as part of "Operation PetrolMafias". There were wiretaps on their phones, so police were listening when Bettozzi called her lawyer after she was detained. Whatever she said to him wasn't privileged or confidential because that does not apply when lawyers are used (wittingly or not) for fraud or crime.
Bettozzi told the lawyer that she had been stopped and detained. She was panicking – not because of the €300,000 stuffed in her high boots – but because she had a safety deposit box key in her purse and she didn't want the Guardia to find the key. She had €1.7 million in proceeds of crime stashed in that box back in Milan.
"Take the key", instructed the lawyer, "and hide it in the chauffeur's clothing."
The lawyer then spoke to the chauffeur and told him to put the key in his underwear.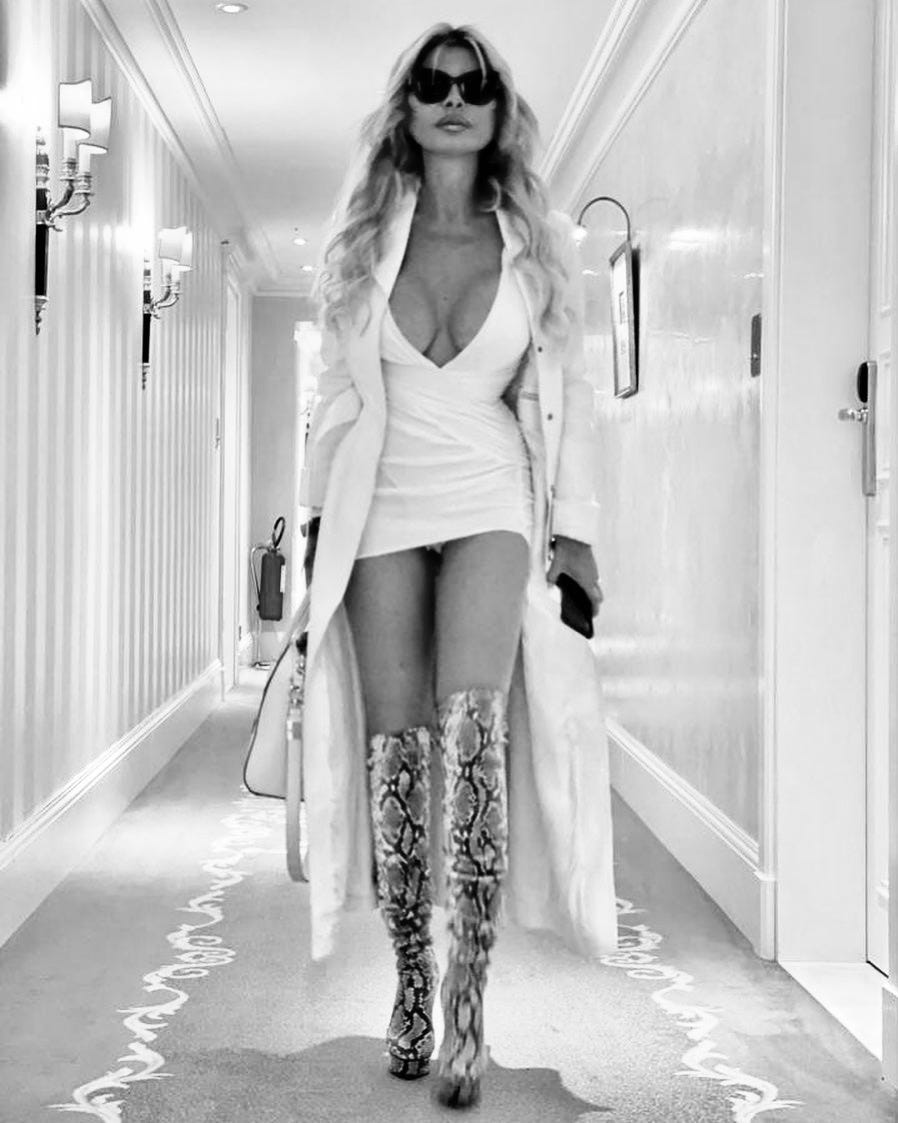 Catch and Release
The officers listening in on the intercepted call then phoned the Guardia in Ventimiglia, who had detained Bettozzi, and told them that Bettozzi had told her lawyer about a lot of money hidden in a safety deposit box at the Gallia Hotel in Milan, and that the key was going to be stashed in the underwear of the chauffeur.
Law enforcement agencies will often conduct a controlled intervention where they cause a disruption to a suspect's routine because it causes suspects to panic and react. Often the first thing suspects do is call the lawyers who helped them paper-up shell entities, and then they call their crime partners. They call those lawyers because they are concerned with the paper trail; they call crime partners because they are concerned with the money trail.
The Guardia decided to do a "catch and release," and let Lady Oil continue her trip to the Cannes Film Festival after they seized the €300,000 in her boots.
When the safety deposit box was opened in Milan, law enforcement found €1.7 million in cash, wrapped up in baggies.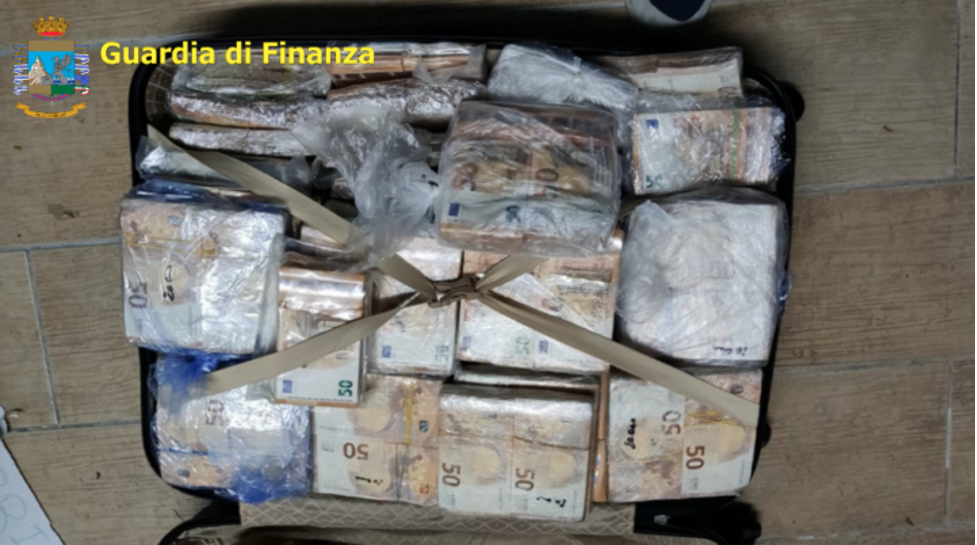 From May 2019 to April 2021, the police continued listening to Bettozzi's phone calls and those of her lawyer, and learned how two powerful Mafia organizations – the Camorra and 'Ndrangheta – helped turn her failed business around by buying illegal oil and gas from as far away as Kazakhstan and Russia, and importing it into Italy.
Early Life in Sardinia
Anna Bettozzi grew up on the island of Sardinia. She always had dreams of being famous. In a 1999 article in Italy's La Repubblica, after her house had been robbed, she was quoted as saying that she "dreams of conquering the world".
She went into real estate in the hopes of meeting one of the many Russian Oligarchs, other billionaires, actors and European royalty who summer on Sardinia's Emerald Coast each year.
She came up with the stage name Ana Bettz, and pivoted to singing, self-financing several CD albums. She had a small following in Russia. In 1997, she paid for Michael Jackson's producer to work on her first music video called "Ecstasy", hoping it would give her career a boost. It didn't.
She married a wealthy Italian oil dealer named Sergio Di Cesare, who controlled Europetroli SRL, an oil reselling business.
Di Cesare had a summer house in the Porto Rotondo area of Sardinia, beside Italy's Prime Minister, Silvio Berlusconi. Bettozzi and Berlusconi became close friends. Very close.
Bunga Bunga Parties
During this time, the Italian Prime Minister was regularly hosting his now famous "bunga bunga" parties, which were after dinner sex parties for wealthy old men. At these "bunga bunga" parties, young women were hired to dress up in costumes, and perform sexual acts for Berlusconi and his old male guests. At least one girl regularly hired was underage – 17-year-old Karima el-Mahroug.
Bettozzi was also very close to Dario Lele Mora, one of the men who procured young women for the Prime Minister's sex parties.
Berlusconi and Mora were both charged and convicted of prostitution-related charges. At Mora's trial, el-Mahroug testified that "a singer close to Berlusconi attended the [bunga bunga] parties" – that singer was Bettozzi.
For at least six years – from 2006 to 2012 – Bettozzi hosted her own famous parties every August at her husband's villa in Sardinia with Berlusconi.
Russian Oligarch Roman Abramovich, a close friend of Berlusconi, arrived in Sardinia for many of the Bettozzi-Berlusconi hosted summer parties, with numerous other wealthy Russian men on his superyacht "Le Grand Bleu."
Russian President Vladimir Putin, not to be left out, went to Sardinia too, to hang out with Berlusconi in August. What did they do there? Only Bettozzi can say for sure.
Obstruction of Justice and Witness Poisoned
After his conviction, Berlusconi threw his wealth into one appeal after another and was eventually acquitted on appeal. But the case didn't stop there. He was then accused of obstruction of justice for bribing witnesses, allegedly paying as much as €10 million to Karima el-Mahroug, who changed her testimony.
Another young witness died of a mysterious poisoning. If it was Novichok, the deadly nerve agent developed by Russian scientists to poison opponents of the Russian government, it would be undetected in an autopsy. Novichok was the nerve agent used in the attempted murder of Alexei Navalny.
The obstruction of justice proceedings against Berlusconi have been going on for 8 years. The prosecutor in the case alleges that Berlusconi's "bunga bunga" parties involved sex slavery, and that Berlusconi gave away money, houses, cars and horses to stop witnesses from testifying against him.
Death of Sergio Di Cesare
In 2018, Di Cesare died, leaving his oil business in shambles and with significant debt. Bettozzi took over the ailing business. Lele Mora was right there too, fresh from prison, helping Bettozzi at oil and gas shows.
Bettozzi needed capital to buy equipment, hire employees, operate the business and buy oil. She also needed petrol sellers and introductions to a network of buyers.
But no one in traditional finance would invest in a business operated by one of Berlusconi's entertainers.
Using Facebook to find Mafia Associates
Using Facebook, Bettozzi reached out to Alberto Coppola, an associate of the Camorra in Naples. Coppola was known to be an expert in trade-based money laundering in the oil and gas sector, with expertise in fictitious invoicing.
Coppola agreed to help Bettozzi. He brokered deals for financing with three powerful Camorra Mafia families, the Moccia, the Formicola, and the Casalesi, which allowed Bettozzi to revive the fortunes of the company.
Disguising Fuel Imports
Coppolla helped to operate the business, while Camorra leader Alberto Moccia provided underground contacts to buy illegal oil and gas from Eastern Europe, and traffic it in Italy. One method they used was disguising diesel fuel as agricultural fuel in trucks outfitted with special levers that could add dye to fuel in tanks to change its color to fool inspectors.
Mafia accountants Claudio Abbondandolo and Maria Luisa Di Blasio oversaw payments of dirty money. The 'Ndrangheta had to approve the deal with the Camorra and Bettozzi. The Camorra became the intermediaries between Bettozzi and the 'Ndrangheta, who agreed to let the Camorra finance Bettozzi in exchange for a cut and for money laundering services.
Extortion Payments
Sales of the company grew to a whopping €370 million in 18 months – all of it dirty money. Bettozzi expanded beyond oil trafficking and joined the Mafia in forcing businesses to pay extorting payments under threats of violence – Russian Oligarch style, where extortion payments were filtered up to leaders in a pyramid scheme.
For several years, the DIA and Guardia di Finanza intercepted and recorded phone calls between Bettozzi, Coppolla, the Camorra and the 'Ndrangheta.
Taking in over €8 Billion per Year
During one of those phone calls the police were intercepting, Bettozzi told her sister that she was working with the Camorra, and they were earning between €25 million to €30 million per day.
That's €8.1 billion per year.
Although very secretive, the 'Ndrangheta went into business with Bettozzi because, as they were heard saying during an intercepted phone call, "trafficking oil yields more than trafficking drugs," meaning it was more lucrative to traffic oil.
Kazak Oil
The police had recorded a meeting in 'Ndrangheta-controlled territory in the town of Vibo Valentia. The meeting was between the Mafia and representatives of the Kazak oil company, KazMunayGaz, discussing oil sales to service Calabria.
The discussion involved the possibility of building a transshipment dock in the ocean to dock oil tankers, so that oil shipments could be delivered to Italy without passing through the Port of Gioia Tauro. They didn't want it to transit through the Port of Gioia Tauro because it is controlled by other 'Ndrangheta families who were not part of their money laundering business.
'Ndrangheta Control
Although Bettozzi originally struck her deal with the Camorra, the 'Ndrangheta – perhaps because of its greater power in the global organized crime hierarchy – dominated the financial side of the business and controlled most of the shell companies, properties and bank accounts used to launder the dirty money.
The Lady Oil's Empire
Bettozzi boasted that she had "created an empire larger than Berlusconis", and that she was so important, Berlusconi called her several times a day and she often did not take his calls. When she did talk to Berlusconi, the police heard those calls too.
In addition to a luxury apartment in Milan, Bettozzi had a sumptuous gold-infused villa in Rome's upscale district of Appio-Pignatelli, with a blue lagoon pool, gold furniture, and rococo fireplaces, not far from the home of fashion designer Valentino.
Under her stage name Ana Bettz, she often Instragrammed herself in her villa, or posted photos of herself at the villa on Facebook, wearing high boots and tight clothes.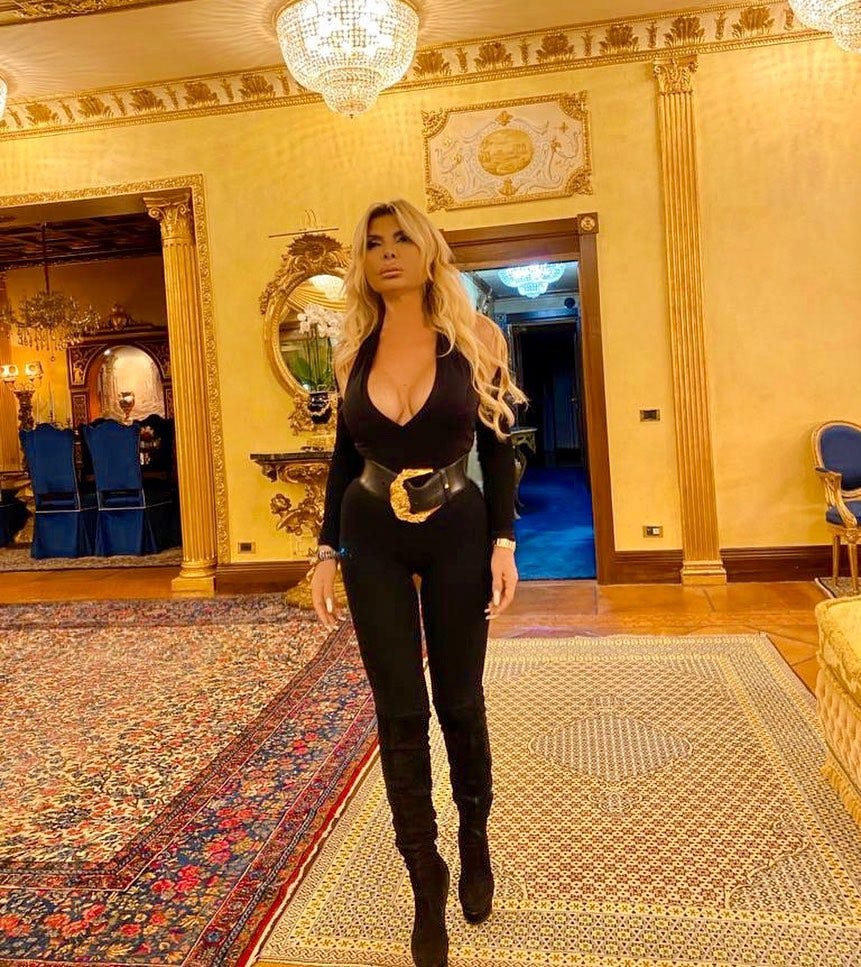 Arrest and Sentencing of Bettozzi
The Guardia di Finanza and DIA decided to end "Operation PetrolMafias" on April 8, 2021, with the arrest of Bettozzi, her lawyer, Mafia leaders and 60 other people in several early morning raids across Italy and Europe.
Bettozzi was charged with membership in an organized crime group, association with the Mafia, extortion, money laundering, and a host of other charges.
According to police, she arranged, through law firms, to make corporate changes of shell companies to keep members of the criminal association off the corporate records and obfuscated from investigations. The money they earned was used to buy luxury cars and real estate, and was laundered through 100 private companies and bank accounts associated with those companies in Hungary, Bulgaria, Greece, Malta, England and Croatia.
Over €360 million in cash was seized and over €1 billion in assets, including properties and companies.
Last week, Anna Bettozzi was sentenced to 13 years in prison, and Europe's biggest dirty oil trafficking case came to a close. While police found €360 million in cash, there is still over €30 billion in cash missing.
Rise of the Petrol Mafias
The phenomena of Petrol Mafias is far from over in Europe.
As the 'Ndrangheta said in intercepted phone calls, trafficking in stolen oil is more lucrative than drug trafficking. With the energy crisis, the opportunities for organized crime to make more profits from illegal petrol trafficking is exponentially greater.
Global energy frauds are coming fast and furious from all directions including at the retail level with pump fraud in Asia, at the pipeline level in Mexico from cartels that siphon oil directly from pipelines while it is in transit; and crude oil theft in Africa. Nigeria lost more than 115,000 barrels per day to oil theft over a 12 month period.