How organized crime used to work in Russia
This is not a story but a potpourri of interesting events involving bribery, extortion, attempted murder, banking, Russian organized crime, Oligarchs and Canada.
We start with Russian Oligarch Vladimir Ivanovich Yakunin (Владимир Иванович Якунин), a high level politically exposed person.
Yakunin was a former KGB agent and Soviet ballistic missile specialist, before becoming president and chairman of the state-owned Russian Railways from 2005 to 2015. He is currently sanctioned by the United States. Among the many mansions that Yakunin owns, people say one is allegedly near Russian President Putin, although that seems doubtful.
Drones over Norway
Yakunin was recently in the news because it is his son, Andrei Yakunin, who was the Russian national arrested in Norway's Svalbard area in the high Arctic, and charged with flying drones around restricted infrastructure in the country, a charge of which he was later acquitted.
The assumption was he's a spy, who was using drones to gather granular intel for Russia. He says he was on a holiday sailing trip and just wanted to fly drones.
Yakunin's wife 'saved' by the Russian mob
Before the appointment of Vladimir Yakunin at the helm of Russia's largest utility company, Russian Railways, his wife Natalia Yakunin (Наталья Якунин), was kidnapped.
A Russian named Andrey Krapivin (Крапивин Андрей Викторович Источник), was called upon to negotiate her release with Viktor Averin (Виктор Аверин), one of the leaders of the Russian organized crime group Solntsevskaya (Солнцевская). Averin and the Solntsevskaya were tied to Canada's capital markets. We'll get to that later. Krapivin and Averin heroically secured Natalia's release from captivity, and legend is, they killed the kidnappers.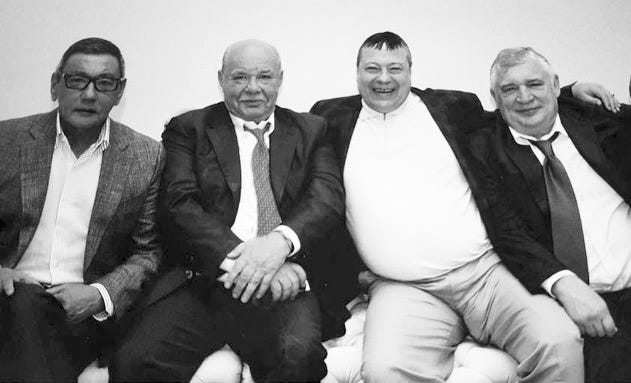 When you owe the Russian mob
Yakunin was now in the debt of the Solntsevskaya and Krapivin. That debt was allegedly re-paid in recurring contracts from Russian Railways to Krapivin's private companies, KUM LLC (КУМ OOO) and the 1520 Group.
The website of the 1520 Group is here — they make, coincidentally, industrial drones to take photographic evidence.
Entities set up to collect the debt
The second entity, KUM LLC, is an acronym of the last names of Krapivin, Boris Efimovich Usherovich, (Ушерович Борис Ефимович) and Valery Anatolyevich Markelov (Маркелов Валерий Анатольевич).
The Instagram account of the former girlfriend of Markelov is here. She leads a very Oligarch sponsored life.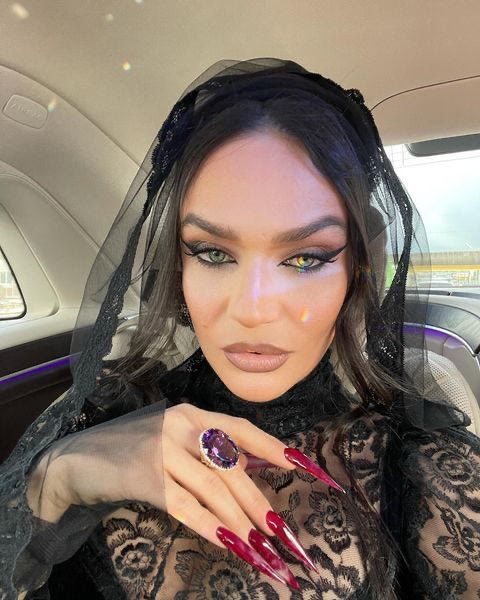 She used to travel the world on private jets, favouring the US, Italy and Turkey.
Markelov, although connected to Russian organized crime boss Averin (and Russian organized crime boss Simeon Mogilevich), allegedly had a deal in Canada with Bombardier to be its middleman (see here). Averin and Mogilevich are childhood friends and "vory v zakone" – thieves in law.
Markelov's daughter, who uses the name Kristina Orsa, sings on YouTube here, and does a Fashion TV stint here.
Russian mob banks
Back to Krapivin, Usherovich and Markelov.
They owned at least two Russian banks with a Russian Oligarch named German Gorbuntsov. Those banks were Interprogressbank (Интерпрогресс банк) and Capital Trade Bank (Столичный торговый банк). Gorbuntsov also owned Interusbank (Интерусбанка) and Industrial Credit Bank (Индустриальный кредит банка).
Gorbuntsov was known in Russia as a "black banker", which means a banker you go to to launder large sums of money or if you are part of major organized crime. The Solntsevskaya was one of its customers.
Much of the information in this potpourri is taken from an affidavit sworn by Gorbuntsov in 2017, for a litigation he is pursuing in Russia, available on the website of Русский Криминал.
$3 billion and counting
KUM LLC set up numerous shell companies in Cyprus, such as Rogenial Limited, to conduct business with Russian Railways. While payments were made to the KUM LLC shell entities, no services were rendered to the Russian government-owned utility.
By 2005, Gorbuntsov says he was told by the KUM partners that they had over US$3 billion in shells outside Russia, primarily acquired by payments from Russian Railways.
Markelov managed KUM LLC's deal with Russian Railways. He built relationships with federal employees in the infrastructure, procurement, real estate and building divisions, paying employees bribes or threatening them with harm or blackmail, to ensure KUM LLC was awarded contracts and paid, whether the work was done or not. Often, trade-based money laundering was used whereby fictitious invoices were submitted so that KUM LLC could get paid.
Blackmail and extortion
In order to keep prosecutors at bay, KUM LLC blackmailed local prosecutors, allegedly paying a Moscow prosecutor US$10,000 per month to serve their interests, after setting him up with a sexual encounter with an underage girl at a Russian bathhouse. The encounter was recorded, and after that, the prosecutor became indebted to KUM LLC.
The role of Usherovich was to bring federal law enforcement agencies on board to support the activities of KUM LLC across Russia. If there was a property or a business the KUM LLC wanted, Usherovich brought in muscle from the Solntsevskaya and federal law enforcement officers on payroll, to forcibly take over the land, assets or business from the owners.
KUM LLC acquired business assets at discounted prices or for free, through threats and intimidation. Usherovich allegedly boasted to Gorbuntsov that KUM LLC acquired a whole block of industrial buildings, including manufacturing plants and a construction company by forcing its owners to sign ownership over to them using Russian federal law enforcement officers.
Police krysha services
One such federal law enforcement officer was Sergey Stanislavovich Derevyanko (Сергей Станиславович Деревянко). He held senior positions at the GUSB of the Ministry of Internal Affairs and the GU MVD for the Central Federal District. He provided krysha services to the KUM LLC.
Krysha, which means a roof, is protection money paid to organized crime, law enforcement or corrupt government officials to operate a business. In its simplest terms, they provide a roof over your head (protect you) and you pay for that roof. In Russia, the state provides krysha for Russian Oligarchs; with organized crime, the Oligarchs then provide krysha to lower level businesses in a massive pyramid scheme.
In 2007, Derevyanko was appointed deputy chief of Internal Security.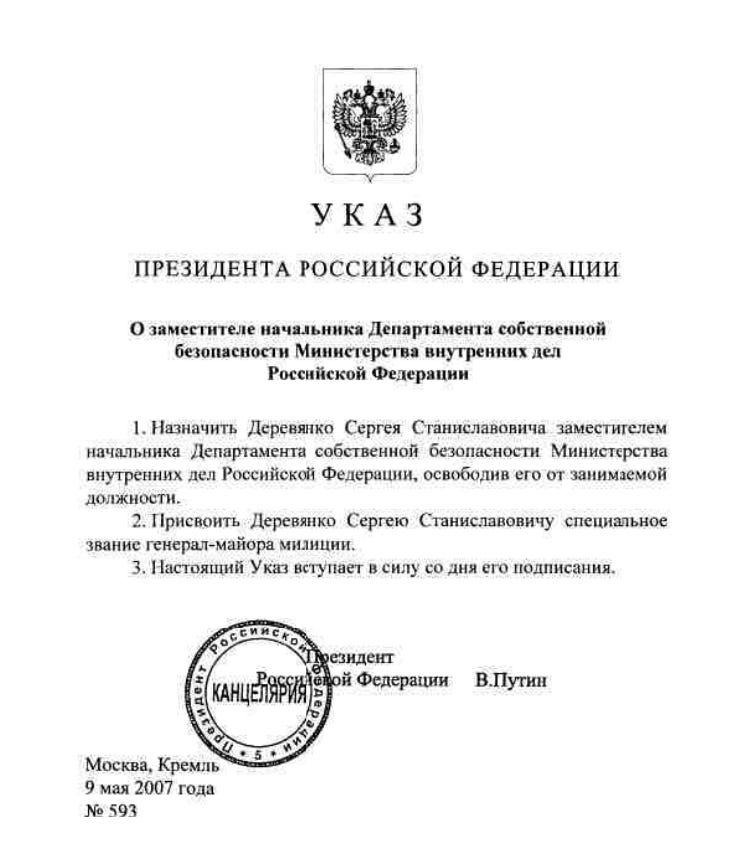 Derevyanko was paid US$300,000 per month from KUM LLC for his underground law enforcement roofing services. The funds came from Gorbuntsov's Capital Trade Bank. Payments were couriered first to former FBS officer Yuri Mikhailovich Vasilyev(Васильев Юрий Михайлович), who delivered the payments to Derevyanko.
Watches, mansions, Swiss bank accounts
Derevyanko was also gifted luxury goods and real estate. If Derevyanko wanted a luxury watch for his US$300,000 monthly protection pay-off, Vasilyev ordered it from Safoniev Sergey Vladimirovich (Сафониеву Сергею Владимировичу) in Moscow. According to Gorbuntsov, Derevyanko has over 100 luxury watches bought from Safoniev's shop with roofing proceeds of crime. KUM LLC gifted Derevyanko a house in Lapino in the Odintsovo District of Moscow.
Another federal law enforcement officer who provided protection services for KUM LLC was Dmitry Viktorovich Zakharchenko (Дмитрий Викторович Захарченко).
Zakharchenko worked in the construction crime department of the Russian Ministry of Internal Affairs. He was well-known in the construction industry because he invented legal problems for builders, and then forced them to pay him to make those fake problems go away.
KUM LLC paid him €150,000 per month for roofing services, and he also took a cut of profits from construction projects acquired by KUM LLC using his extortion efforts.
In order to pay Zakharchenko under the table, Gorbuntsov helped him set up two companies – Bachelor Group Inc. in Panama and Ancillmar Ltd. in Cyprus, with his father, Viktor Dmitrievich Zakharchenko, as the fake director.
Gorbuntsov flew Zakharchenko and his father on his Canadian-bought Bombardier private jet from Russia to Switzerland and helped them open a bank account for their laundered money at the Dresdner Bank Ltd., now called LGT Bank (Switzerland) Ltd., located at Rue du Rhone 21 in Geneva. The LGT Bank (Switzerland) Ltd., deposed Gorbuntsov in his affidavit, provides private banking services to Russians without asking questions. Gorbuntsov wired Zakharchenko proceeds of crime equalling US$800,000 to the Swiss bank account of Ancillmar Ltd. to pay his first roofing invoice.
When the Russian mob is done with you
At this point in his career as a banker for dirty money in Russia, Gorbuntsov either knew too much or wasn't making his roofing payments up the chain of command to stay alive in Russia, and had to go.
In April 2009, he says that he was summoned to a meeting with Averin at the Café Denis on Mozhaiskoye Highway in Moscow. At the meeting were each of the KUM LLC partners – Krapivin, Usherovich and Markelov, as well as Solntsevskaya leader Averin, Evgeny Grigoryevich Khokhalkov (Евгений Григорьевич Хохальков), a former general with the FSB and Pyotr Chuvilin (П.Ю Чувилин).
Gorbuntsov was told that he owed money to KUM LLC and was ordered to pay it back, otherwise there would be life or death consequences. Days later, they appeared at Gorbuntsov's bank, forced him out – with armed members of the Solntsevskaya – and informed staff that he was no longer the bank's owner.
Zakharchenko then met with Gorbuntsov and warned him that he was about to be arrested and charged with the murder of Ruslan Yamadayev and the attempted murder of Alexander Yurievich Antonov.
Flee and leave your wife to deal with the mob
After that meeting, Gorbuntsov says he drove to Moscow's private jet hanger, Vnukovo-3 Airport, and left Russia for Moldova, leaving his wife and son behind to deal with Russian organized crime.
When he was in Moldova, KUM LLC took over his businesses. In order to gain control of his banks, they brought his wife to a meeting with the Solntsevskaya and demanded that she sign notarial documents to assign his shares and assets to KUM LLC. She was told that if she signed the papers, she would be allowed to leave the meeting alive. If she did not, she would be killed and they would kill her son.
She went for the "stay alive" option and the banks became the property of KUM LLC and presumably, the Solntsevskaya, as the silent partner.
Gorbuntsov stayed in Moldova until 2010, when he moved to London. In 2012, there was an assassination attempt on his life in London, which he survived. He claimed asylum in England, alleging that he was in Putin's inner bank circle, and would be killed if he returned to Russia.
He has since been accused of money laundering in Moldova and in Russia; charges that he denied. He was allowed to remain in the UK.
Russian revenge
Gorbuntsov, allegedly with no ties to Russia, managed to stir the pot in Russia's highest circles to get the leadership of the federal government interested in the money flows to the KUM LLC and its partners, except the Solntsevskaya leaders Mogilevich and Averin – it's still hands off for them.
In 2016, one of Zakharchenko's apartments was raided and police say they found US$123 million in cash at the apartment. He was convicted of taking bribes from Markelov, Usherovich, Ivan Stankevich and Dmitry Motorin.
In 2018, Markelov was then arrested for his role in the bribery scandal and also convicted. Usherovich fled to one of his mansions in Europe.
The KUM LLC partners were gone.
Derevyanko went on to become head of the Main Directorate of the Ministry of Internal Affairs for the Central District, but was removed from his post by Putin in 2014, along with 18 other employees under him, but not before he was able to accumulate significant assets, including a 60 metre yacht called "Anna" in France, a villa in the French Riviera, five mansions in Moscow and mansions in Znamenskoye and Lapino (the mansion bought by the KUM LLC for him).
Russians began to ask how it was possible that federal law enforcement officers were Oligarchs, with mansions in France, yachts, private jets and billions of dollars in assets parked overseas.
Someone like Derevyanko being paid US$300,000 per month under the table earns US$36 million in ten years but that's just for one client. If he had 100 clients, he'd be fast-tracked to Oligarchy.
Ties between Ukraine, Russia and Canada
And Derevyanko did have other clients. At least one tied to Canada.
According to Russian media, Derevyanko is involved in several corruption-related litigations, apparently as a witness, in connection with roofing payments he received from the Ukrainian business partner of a wealthy Canadian businessman. Those payments included $3 million and free plots of land for fixing criminal cases with Natalia Agafieva and selling undervalued Russian state assets through the Sberbank (sanctioned by the United States). Another US$5 million was paid to him for helping obtain mining rights in Russia. This is all allegedly.
Moreover, allegedly before the murder of Vyacheslav Ivankov (known as Yaponchik), Derevyanko assisted this same partner of the Canadian to negotiate a US$10 million payment in cash to Yaponchik.
Yaponchik was a partner of Averin and Mogilevich. To have Yaponchik, Averin, Mogilevich and Derevyanko allegedly involved in a dirty deal involving Canada is a concerning cross-over – not the least of which is the fact that Derevyanko was a Russian federal officer (e.g., an agent) at this time. What's he doing tied to Canadian business interests, allegedly collecting bribery payments?
Below is a photo provided to a Russian media site, allegedly showing part of the payment to the Russian mob, routed through Derevyanko (the Putin-appointed government official) as middleman, that was from the partner of the Canadian. The Russian media site says that everyone in the office took a photo with the bribery money – proceeds of crime really – because no employee had ever seen so much US cash.
Russian securities fraud
Mogilevich and Averin are relatively known to Canadians and Americans. With other members of the Solntsevskaya Russian organized crime group, they set up a company in Canada called YBM Magnex International Inc. to infiltrate the capital markets, steal from investors and launder money.
According to St. Petersburg insider and journalist Dmitry Zapolsky (mysteriously murdered), who wrote the definitive book on the Russia's gangster state from personal knowledge called Putinburg, Averin and Mogilevich were sponsored and bankrolled by KGB chief Yevgeny Primakov to set up in Hungary and take the Solntsevskaya global, where they would steal from foreign countries and open up new navigation routes to move dirty money from Russia.